Hello, lovelies! Welcome to
Bookish Lifestyle Digest
- something we'll be putting together at the end of every month to highlight our recent favorite reads and recap any posts you may have missed. We also include an
About My Life
section in an effort for you to get to know us better. Don't forget to tell us in the comments some things that happened to you over the past month so we can get to know you guys better too!
Updates for 2015 TBR Pile Challenge:
Dorothy Must Die by Danielle Paige was voted our November Read Along! Be sure to check out the schedule and let us know if you'll be joining in!
Every week, starting Friday and ending Sunday night, you can pop over to Bookish Lifestyle to link up your blog posts for the week. Please feel free to link up your bookish posts (book reviews, guest posts, author interviews - but please, no memes and mailbox posts, there are many separate linkys for that already!), lifestyle posts (product reviews, parenting tips, travel posts, personal posts - anything!) and giveaways (both bookish and lifestyle!) - we want to see what cool stuff you've shared with the world recently! Be sure to check out some other links while you're here - let's get social!
Evie
Andrea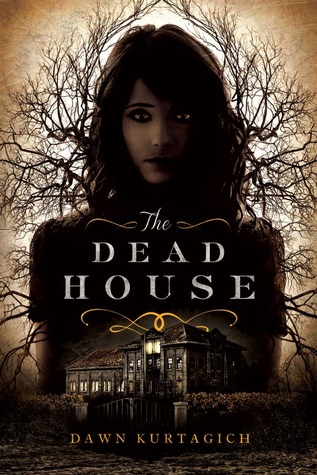 Three students: dead.
Carly Johnson: vanished without a trace.

Two decades have passed since an inferno swept through Elmbridge High, claiming the lives of three teenagers and causing one student, Carly Johnson, to disappear. The main suspect: Kaitlyn, "the girl of nowhere."

Kaitlyn's diary, discovered in the ruins of Elmbridge High, reveals the thoughts of a disturbed mind. Its charred pages tell a sinister version of events that took place that tragic night, and the girl of nowhere is caught in the center of it all. But many claim Kaitlyn doesn't exist, and in a way, she doesn't - because she is the alter ego of Carly Johnson.

Carly gets the day. Kaitlyn has the night. It's during the night that a mystery surrounding the Dead House unravels and a dark, twisted magic ruins the lives of each student that dares touch it.

Debut author Dawn Kurtagich masterfully weaves together a thrilling and terrifying story using psychiatric reports, witness testimonials, video footage, and the discovered diary - and as the mystery grows, the horrifying truth about what happened that night unfolds.
Wednesday Addams and Herman
New job = new schedule.
I've had a bit of a rough time adjusting to my new schedule at work. Leaving earlier, getting home later, etc., but I think (a month later) I'm finally getting the hang of it!
Halloween (hey, that's today)!
I love Halloween. The dressing up (both me and seeing the cute kid costumes), the atmosphere, the books, and the movies. I read many scary books this month, but it was definitely
The Dead House
that got to me the most. If you haven't read it yet, read it now!
Jessica
Twenty-three year old, Kamryn Cunningham has left all she's ever known and moved to a small town where no one knows her name, who her parents are, or her social status in the horseracing world. Months after opening her own bakery and evading attempts of being set up by her new best friend, she meets Brody. Kamryn fights the instant pull between them because there's a detail she can't dismiss. Brody's married.

To say that twenty-six year old, Brody Saco has had a rough marriage would be an understatement. After marrying his pregnant girlfriend, he spends the next six years in a relationship filled with hatred, manipulation and guilt involving a tragedy that happened five years earlier. When he keeps running into his sister-in-law's best friend, Kamryn, he can't ignore that she makes him feel more with just one look than his wife ever has; and soon he can't continue fight his feelings for her.

When staying apart proves to be too difficult, Brody and Kamryn enter a relationship full of stolen moments and nights that end too soon while they wait for Brody to file for divorce. But the guilt that comes with their relationship may prove to be too much for Kamryn, and Brody might not be strong enough to face the tragedy from his past in order to leave his conniving wife.
School has literally taken over my life. I swear, I am not exaggerating. A majority of everything I've been doing lately has been school related. Studying, taking quizzes, studying, taking tests, studying, writing a paper (that nearly killed me), and DID I MENTION STUDYING. Every time I think I'm at a l point where I'll have more time to do other things, something else school related gets piled on. It's stressful and annoying, but we are getting SO CLOSE to the end of the semester. Then I'll definitely have an entire month to read and blog and do everything but study. It'll be GREAT.

Guess what I haven't been doing much of? READING. And it makes me so sad. I really need to carve out more time to read in November because not reading... ugh. I hate it.

Texas has been experiencing some crazy weather lately. Flash flood, thunderstorm, and tornado warnings galore. Surprisingly, we haven't had a power outage due to all this yet. (*knock on wood*)

My flight to Apollycon is figured out! I don't go to events that involve serious travel. The farthest I go is Dallas, and even that is super rare. So the fact that I'm working out a trip for Apollycon in February just has me SO EXCITED! As we all know, I adore Jennifer L. Armentrout. So I'm looking forward to the event and getting The Power and seeing the slew of other amazing authors that will be attending (Kristen Ashley! Molly McAdams! Rachel Harris! Katie McGarry! I think Alexandra Bracken is on the list, which had me freaking out because The Darkest Minds is one of my all time favorite books. And so many more!) PLUS, I get to see Val (my co-blogger at StuckInBooks) and my katue (@PolishedPage on twitter)! It's going to be loads of fun! :)

One second to mention that my love and adoration for The Voice is holding strong (which you already know if you've seen this month's Musical Musings post). I am 100% Team Korin this season. Fingers crossed for her, y'all!
Debbie
Tell us - what went on in your month?! What were some of your favorite books this month? Favorite posts from either your blog or others? What are some new (or old) and noteworthy things we should know about?
Be sure to leave a link!