Hello lovelies! Welcome to
Bookish Digest
- something we'll be putting together at the end of every month to highlight our recent favorite reads and recap any posts you may have missed. We also include an
About My Life
section in an effort for you to get to know us better. Don't forget to tell us in the comments some things that happened to you over the past month so we can get to know you guys better too!
Updates for 2015 TBR Pile Challenge:
Every week, starting Friday and ending Sunday night, you can pop over to Bookish Lifestyle to link up your blog posts for the week. Please feel free to link up your bookish posts (book reviews, guest posts, author interviews - but please, no memes and mailbox posts, there are many separate linkys for that already!), lifestyle posts (product reviews, parenting tips, travel posts, personal posts - anything!) and giveaways (both bookish and lifestyle!) - we want to see what cool stuff you've shared with the world recently! Be sure to check out some other links while you're here - let's get social!
June 8 - 14
June 15-21
June 22-28
Evie
There are angels, and they are not beneficent or loving. But they do watch over us. They watch our lives unfold, analyzing us for repeating patterns and redundancies. When they find them, the angels simplify those patterns, they remove the redundancies, and the problem that is you gets solved.
Carey doesn't much like that idea. As a punk living in New York City, 1977, Carey is sick and tired of watching the strange kids with the unnoticeable faces abduct his friends. He doesn't care about the rumors of tarmonsters in the sewers, or unkillable psychopaths invading the punk scene—all he wants is drink cheap beer and dispense asskickings.
Kaitlyn isn't sure what she's doing with her life. She came to Hollywood in 2013 to be a stunt woman, but last night a former teen heartthrob tried to eat her, her best friend has just gone missing, and there's an angel outside her apartment.
Whatever she plans on doing with her life, it should probably happen in the few remaining minutes she has left of it.
There are angels. There are demons. They are the same thing. It's up to Carey and Kaitlyn to stop them. The survival of the human race is in their hands.
We are, all of us, well and truly screwed.
Andrea
| | |
| --- | --- |
| Series: | Standalone |
| Genre: | Adult, Paranormal, Historical Fiction |
| Website: | Cat Winters |
| | Goodreads |
| Review: | |
From the award-winning author of In the Shadow of Blackbirds comes a stunning new novel—a masterfully crafted story of love, loss, and second chances. Set during the fear and panic of the Great Influenza of 1918, The Uninvited is part gothic ghost-story, part psychological thriller, perfect for those who loved The Thirteenth Tale by Diane Setterfield or The Vanishing by Wendy Webb.

Twenty-five year old Ivy Rowan rises from her bed after being struck by the flu, only to discover the world has been torn apart in just a few short days.

But Ivy's life-long gift—or curse—remains. For she sees the uninvited ones—ghosts of loved ones who appear to her, unasked, unwelcomed, for they always herald impending death. On that October evening in 1918 she sees the spirit of her grandmother, rocking in her mother's chair. An hour later, she learns her younger brother and father have killed a young German out of retaliation for the death of Ivy's older brother Billy in the Great War.

Horrified, she leaves home, to discover the flu has caused utter panic and the rules governing society have broken down. Ivy is drawn into this new world of jazz, passion, and freedom, where people live for the day, because they could be stricken by nightfall. But as her 'uninvited guests' begin to appear to her more often, she knows her life will be torn apart once more, but Ivy has no inkling of the other-worldly revelations about to unfold.
Moved my baby brother to another state. It wasn't okay then and it's not okay now. :'(

I caught up on all my series, a task I've been working on for over a year and it's a magical feeling! Now I just have to make sure I keep this up and read new additions when the come out (or binge already published books in new series I start) and not let them fall to the wayside.

I've gone into full organization mode when it comes to our house and my life. I've started a temporary planner until my new shiny one comes in (hopefully soon) and I've started cleaning out closets, our basement, garage, cabinets, so on and so fort. It's so freeing and I feel like a weight as been lifted every time I add something to the donate pile!
Elizabeth
Jessica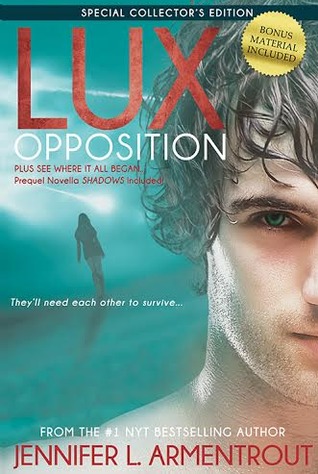 Katy knows the world changed the night the Luxen came.

She can't believe Daemon welcomed his race or stood by as his kind threatened to obliterate every last human and hybrid on Earth. But the lines between good and bad have blurred, and love has become an emotion that could destroy her—could destroy them all.

Daemon will do anything to save those he loves, even if it means betrayal.

They must team with an unlikely enemy if there is any chance of surviving the invasion. But when it quickly becomes impossible to tell friend from foe, and the world is crumbling around them, they may lose everything— even what they cherish most—to ensure the survival of their friends…and mankind.

War has come to Earth. And no matter the outcome, the future will never be the same for those left standing.
My not-so-little brother turned 18. Seriously, the dude's been bigger than me for years now. But I'm older, so I'm pretty sure I'll always call him my little brother. Anyway, he turned 18! Which is crazy. Makes me feel all old and stuff. (Even though I'm only a year a half-ish older than him. Heh.) My oldest brother also had a birthday just the other day (the 29th!), so that was fun. There was cake and laughs and general niceness.
THIS.
Ohmygoodness, I just want to watch that on a loop forever because that baby... Except I can't because if I do, I totally get all teary because CUTE BABY. I can't handle the cute.
Better Than Yesterday!
I had this big Twitter freak out flail about how I FINALLY figured out the title of a book I've been thinking about for YEARS. And theeeeen, my super wonderful and awesome Secret Sister gifted me the ebook! Needless to say, I was extremely thrilled!
BOOOOOKS.
I read Scorched by JLA (which was phenomenal). And Trusting Liam by Molly McAdams (
which I totally gushed about
). AND I ALSO READ OPPOSITION. I have been dragging my feet on reading this book for such a long time. The Lux series is my all-time favorite, and I'm a really clingy person in general, so reading this final book... it was hard. But I finally did it! And it was amazing and beautiful and I loved it so much! Now I need to calm myself as I wait for Oblivion, so I can go back to the first three books and pretend my favorite series HASN'T actually come to an end...
Debbie
Tell us - what went on in your month?! What were some of your favorite books this month? Favorite posts from either your blog or others? What are some new (or old) and noteworthy things we should know about?
Be sure to leave a link!