Many of you know that back in November I married the love of my life. During the planning process Etsy became both a huge help and the bane of my existence, or my bank account's existence anyway. One of the many things on Etsy I researched during my planning process was cake toppers. Do you guys have any idea how many cake toppers there are out in the world? So, so many.
My other issue was Joe and I wanted to somehow incorporate our German Shepherd in the wedding. We had pictures with / of him in our guestbook, but we wanted something a bit more. Something that would stand out.
Enter
Trina's Clay Creations
. Hand crafted cake toppers for all occasions, with a
specialization in wedding cake toppers
. The minute I clicked on Trina's shopped and scrolled through her many pages of images (all of which are examples of her previous work)
I knew I had to buy one
for our wedding.
I'll admit I hesitated at the price and thought about it for a few days, but in the end I knew
I would be disappointed if I didn't order this
. Plus, I justified the purchase has crossing off many "must haves:" a cake topper, our inclusion of Bentley, and a wedding keepsake. Not to mention the
added bonus of giving my money to a small business
instead of a corporation.
I emailed Trina that January (we were engaged in December and I wasted no time planning!) with a few questions regarding purchase, sending pictures, and her current schedule. (Her Etsy page states that she does book up fast and
is currently scheduling order for October shipping
.) At the time she was scheduled until May, asked about my deadline - she was thrilled beyond belief that my wedding was in November - and answered all my questions and then some.
Once purchased I sent her pictures of us and Bentley, pictures of my dress (I told you I waited no time planning!), and told her once I had the tux information I would send it to her.
She was even accommodating when a week or two later I changed my mind about the base and flower colors.
In the middle of May I received another message from Trina informing me that she was still on track to begin working on my cake topper within the next two weeks and
just before she started she emailed me to confirm a few details to ensure the product was exactly what I wanted
. I loved that she checked with me instead of just assuming! The next day she sent me a picture of the bride (me!) and I was blown away. Yes, I know I saw her examples but this one was mine! Later that day, she is exceptionally
fast and efficient
, she sent me a picture of the bride, groom, and dog. Four days later, she sends me this: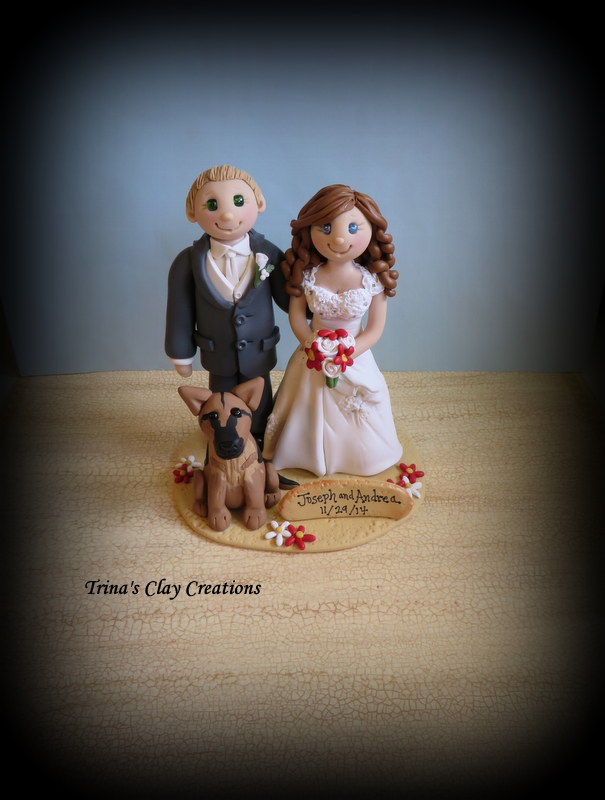 I mean, come on. How could I ask for a better cake topper? Simple answer: I couldn't. Not including the time period between me buying this and her starting it,
it took only seven days for Trina to make my topper and for it to arrive on my door step
.
I was - well, still am -
so protective of this topper
. I didn't even want to give it to the woman baking our cake so she make sure the top tier was the right size and then put it on the cake.
It is above and beyond the best cake topper and we had so many compliments.
she truly customizes your topper
. Your flowers, your colors, your dress, your tux. It's actually like mini you and / or your pets on the cake. You want to be represented by animals, you got it. Both of you are big sports fans and want to have jerseys on over your wedding clothes, done. You have three dogs and two cats, no problem. Kids from a previous marriage, throw them on there. Is your wedding on the beach in Hawaii and you want leis around your necks, sure thing. I could go on, but I think you get the point. Trina's addition of those personal touches (bridal bouquets, pets, props, etc) is what makes these toppers so
wonderful and uniquely yours
.
While her specialty is wedding cake toppers, Trina
also has a variety of other polymer clay options
: animals, trinket boxes, ornaments, and cake toppers for a variety of options. If don't see exactly what you want, Trina wants you to
email her and discuss it
with you!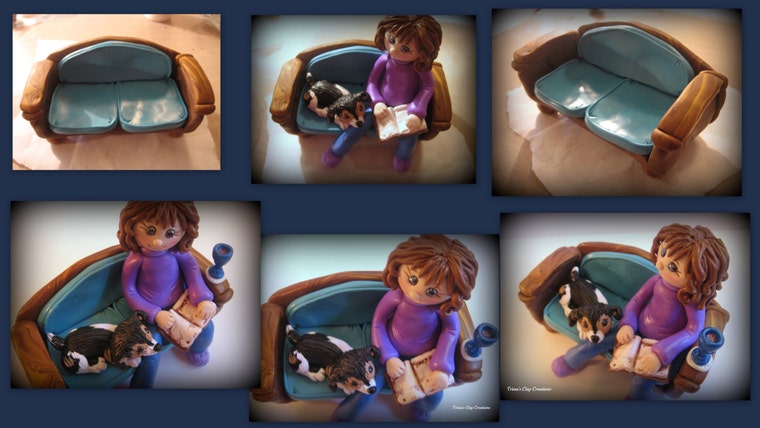 A custom order highlighted on Trina's Etsy page
Special Promotion
Please read the following carefully and completely
Trina is nice enough to offer a special treat for all Bookish Lifestyle readers! Whether you are planning a wedding, looking for that perfect gift for a newlywed couple or an anniversary gift for your significant other, you can get
10% off your wedding cake topper from now until July 29
!
(Please note this offer is only for wedding cake toppers)
However,
prior to ordering you MUST contact Trina to ensure she can accommodate your time-frame
, since her schedule fills up quickly,
and to receive the coupon code
to get your 10% off! When you contact Trina,
inform her you are a reader of Bookish Lifestyle, the date of your wedding, the state or country it'll be shipped to, and any other questions you may have
.
Be sure to let us know if you do choose to get a wedding cake topper, or any topper, from Trina and send us a picture once you have it!