Hello lovelies! Welcome to
Bookish Digest
- something we'll be putting together at the end of every month to highlight our recent favorite reads and recap any posts you may have missed.
Also, in an effort for you to get to know us better, we've included two new topics. Don't forget to tell us in the comments some things that happened to you over the past month so we can get to know you guys better too!
About My Life in June where we recap some of the things that happened to us - from the big things to the little
Things I'm Looking Forward to in July to touch on what we have planned next month that we are super excited for
In a mega-stakes, high-suspense race against time, three of the most unlikely and winning heroes Stephen King has ever created try to stop a lone killer from blowing up thousands. In the frigid pre-dawn hours, in a distressed Midwestern city, hundreds of desperate unemployed folks are lined up for a spot at a job fair. Without warning, a lone driver plows through the crowd in a stolen Mercedes, running over the innocent, backing up, and charging again. Eight people are killed; fifteen are wounded. The killer escapes. In another part of town, months later, a retired cop named Bill Hodges is still haunted by the unsolved crime. When he gets a crazed letter from someone who self-identifies as the perp; and threatens an even more diabolical attack, Hodges wakes up from his depressed and vacant retirement, hell-bent on preventing another tragedy. Brady Hartfield lives with his alcoholic mother in the house where he was born. He loved the feel of death under the wheels of the Mercedes, and he wants that rush again. Only Bill Hodges, with a couple of highly unlikely allies, can apprehend the killer before he strikes again. And they have no time to lose, because Brady's next mission, if it succeeds, will kill or maim thousands. Mr. Mercedes is a war between good and evil, from the master of suspense whose insight into the mind of this obsessed, insane killer is chilling and unforgettable.

In the gloomy pre-dawn hours of a distressed Midwestern city, hundreds of unemployed hopefuls are lined up for a job fair. Without warning, a merciless driver plows through the crowd in a roaring Mercedes. Eight people are killed; 15 are wounded. The killer escapes into the early-spring fog never to be seen from again. Until now...

Detective Bill Hodges is a battle-hardened and streetwise crime fighter originally assigned to the Mercedes killings. Now retired, Hodges has lost his way in boredom and depression craving the thrills of taking down the region's most notorious criminals. When a disturbing letter from the Mercedes Killer arrives at his door, Hodges soon finds himself uncontrollably drawn into a cat-n-mouse pursuit with stakes beyond comprehension.

Mr. Mercedes is Stephen's first "hard-boiled detective tale." It will transport you into a vibrant and dangerous world filled with gritty characters living on the bleeding edge of reason. Be prepared...
Miscellaneous
Shelf Cleaning ARC Giveaway [INT]
20 Books NOT to Miss This Summer
About My Life In June
Victoria had her first spoon of carrot sauce and she freaking loved it :)
I made my very first cupcakes (chocolate with peanut butter frosting)
I got back to blogging on my other, lifestyle blog
and am trying really hard to keep up with it, tho it's just sooooo hard to find time!
Things I'm Looking Forward to in July
Hopefully getting some more sleep! *fingers crossed very very hard*
Reading some awesome mermaid and mythology related books for our August event!
Finally watching Divergent and The Fault In Our Stars!
Name of overseas edition of Between The Lives.

Above all else, though I try not to think about it, I know which life I prefer. And every night when I Cinderella myself from one life to the next a very small, but definite, piece of me dies. The hardest part is that nothing about my situation has ever changed. There is no loophole.

Until now, that is...

For as long as she can remember, Sabine has lived two lives. Every 24 hours she Shifts to her ′other′ life - a life where she is exactly the same, but absolutely everything else is different: different family, different friends, different social expectations. In one life she has a sister, in the other she does not. In one life she′s a straight-A student with the perfect boyfriend, in the other she′s considered a reckless delinquent. Nothing about her situation has ever changed, until the day when she discovers a glitch: the arm she breaks in one life is perfectly fine in the other.

With this new knowledge, Sabine begins a series of increasingly risky experiments which bring her dangerously close to the life she′s always wanted... But just what - and who - is she really risking?
Miscellaneous
Socratic Seminar: Spoiled Endings
Signed, Sealed, Delivered
About My Life In June
I attended my girlfriend's bridal shower and bachelortte party. The latter event was spent at local wineries before having dinner and crashing at a hotel.

I hosted my first Father's Day/family gathering. Joe and I had both our families over for a Father's Day cookout and it was a great success! I'm like a real adult now!

Joe and I created our registry and bought our wedding rings. We spent an hour and a half and Bed Bath & Beyond picking out things for our registry. Joe loved it (said with heavy sarcasm).

I went shopping with my sister for the bridesmaid's jewelry. Apparently gold is the color of the season. Every store had gold, gold, and more gold. I am not a fan of gold and it doesn't match my colors, so it made for a tricky shopping trip.
Things I'm Looking Forward to in July
July 4th being on a Friday. Three day weekend! *Numfar does the dance of joy*

My first dress fitting! I bought my wedding dress back in January and, aside from pictures, haven't seen it since then. Can't wait to put it on again!

Spa Day! As a special pre-wedding treat for Becca, we - the bridesmaids and her mother - are going to a local spa for a little spa day.
When a gorgeous young dancer walks through his door, a strip club owner must decide whether to follow his rules or his heart in the third novel by the author of One Tiny Lie and Ten Tiny Breaths.
Owning a strip club isn't the fantasy most guys expect it to be. With long hours, a staff with enough issues to keep a psych ward in business, and the police regularly on his case, twenty-nine-year-old Cain is starting to second guess his unspoken mission to save the women he employs. And then blond, brown-eyed Charlie Rourke walks through his door, and things get really complicated. Cain abides by a strict "no sleeping with the staff" rule. But being around Charlie challenges Cain's self-control…and it's been a long time since any woman has done that.
Twenty-two-year-old Charlie Rourke needs a lot of money, really fast, in order to vanish before it's too late. Taking her clothes off for men makes her stomach curl but Charlie tells herself that at least she's putting her acting and dancing skills to good use. And though her fellow dancers seem eager to nab their sexy, sophisticated, and genuinely caring boss, she's not interested. After all, Charlie Rourke doesn't really exist—and the girl pretending to be her can't get distracted by romance.
Unfortunately, Charlie soon discovers that developing feelings for Cain is inevitable, and that those feelings may not be unrequited—but losing him when he finds out what she's involved with will be more painful than any other sentence awaiting her.
Signed, Sealed, Delievered
Mermaid & Myth Month is Coming
About my Life in June
I am still in my Summer semester of college... It kicked my rear end this month!
I figured out that I am HORRIBLE with time management... Ya I suck and have picked up 2 journals and an agenda so I stop missing things (Sorry again Andrea lol)
Things I'm Looking Forward to in July
End of this month means only two weeks left in college. I can't even express how badly I want the three weeks off in August!
My anniversary! Normally anniversary means Cuba trip or trip away, so I have my fingers crossed we can pull it off because I NEED it!
Sun. Flat out this winter was brutal and I can't wait to soak up more of the sun.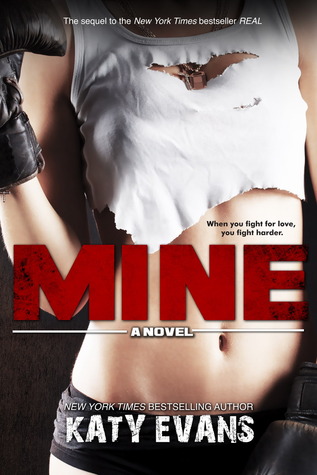 He's mine, and I'm his. Our love is all-consuming, powerful, imperfect, and real...

In the international bestseller REAL, the unstoppable bad boy of the Underground fighting circuit finally met his match. Hired to keep him in prime condition, Brooke Dumas unleashed a primal desire in Remington "Riptide" Tate as vital as the air he breathes... and now he can't live without her.

Brooke never imagined she would end up with the man who is every woman's dream, but not all dreams end happily ever after, and just when they need each other the most, she is torn away from his side. Now with distance and darkness between them, the only thing left is to fight for the love of the man she calls MINE.
About My Life In June
I graduated high school! Crazy.

My niece was born! So I now have four nephews and one niece. :)
I was selected to be Remy's advocate in the NA Crush Tourney! I heart that boy something fierce.

Things I'm Looking Forward to in July
The NA Crush Tourney!
It officially started on the 24th, but Remy's first match is on July 1st. If you love the one and only Riptide and would like to find out how to help him out in the tourney, click
HERE
.
The start of the LUX Readathon I'm hosting with Val from Stuck in Books.
I can't wait to get back into the world I love so much--and hang with my favorite characters! If you'd like to find out more about the readathon or sign up to participate, you can click
HERE
.
Getting all my stuff for college sorted out once and for all. Because goodness gracious, they make things more complicated than they need to be. HA!
Nevaeh Evan's life is uprooted after her father's death, when she moves in with her aunt and cousin, Livvie. Her plan to lay low at her new high school isn't working. Her friend's jerky boyfriend keeps asking her out, the guy she likes treats her like garbage, and the thought of tumbling again makes her want to hurl.




So when her aunt pushes her into joining the elite X-FACTOR cheer leading squad, Navaeh goes along with it.




But Nev feels she doesn't deserve to be happy. Not after what happened the night her father died.




Bodie Scott knows about grief all too well. Critically injured in an alcohol related accident the year before, Bodie struggles with the fact that he'll never play football again, and he's so far behind in credits he can't see straight. That is, until he meets Nev. Haunted by their bloody pasts and wary of a shared future, Nev and Bodie turn to one another for comfort and support, and realize they're not so alone after all. And when the party scene at school threatens the life of a loved one, the two stop at nothing to keep the past from repeating itself.
Author/Book Spotlights
A Safe Place by E.M Tippetts
(Cover Reveal)
Almost Royalty by Courtney Hamilton
(Guest Post)
About My Life In June
I bought new bookcases.
Visited my sister.
Started my weight loss journey with a personal trainer.
Things I'm Looking Forward to in July
Getting my house organized to move in September.
Spending time with my daughter on her summer break.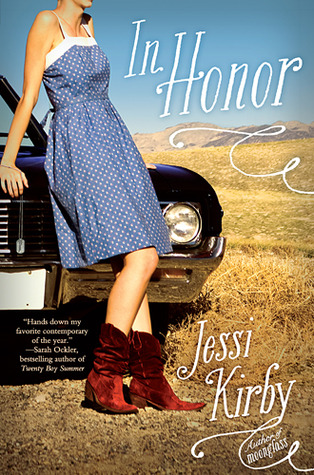 Honor receives her brother's last letter from Iraq three days after learning that he died, and opens it the day his fellow Marines lay the flag over his casket. Its contents are a complete shock: concert tickets to see Kyra Kelly, her favorite pop star and Finn's celebrity crush. In his letter, he jokingly charged Honor with the task of telling Kyra Kelly that he was in love with her.




Grief-stricken and determined to grant Finn's last request, she rushes to leave immediately. But she only gets as far as the driveway before running into Rusty, Finn's best friend since third grade and his polar opposite. She hasn't seen him in ages, thanks to a falling out between the two guys, but Rusty is much the same as Honor remembers him: arrogant, stubborn . . . and ruggedly good-looking. Neither one is what the other would ever look for in a road trip partner, but the two of them set off together, on a voyage that makes sense only because it doesn't. Along the way, they find small and sometimes surprising ways to ease their shared loss and honor Finn--but when shocking truths are revealed at the end of the road, will either of them be able to cope with the consequences?
My bffs sister's baby shower.
She's like a sister to me.
4th of July with BBQing, fireworks, and a long weekend
of reading and relaxing.
Getting my nerd on
and going to a scientist lecture at fermi national labs.
What were some of your favorite books this month? Tell us about what went on in your life during the month of June - reading or another wise - and what you're looking forward to in July! :)