Hello lovelies! Welcome to
Bookish Digest
- something we'll be putting together at the end of every month to highlight our recent favorite reads and recap any posts you may have missed. We also include an
About My Life
and
Things I'm Looking Forward To
section in an effort for you to get to know us better. Don't forget to tell us in the comments some things that happened to you over the past month so we can get to know you guys better too!
Updates for 2015 TBR Pile Challenge:
Our May TBR Read Along winner is Great by Sara Benincasa! Be sure to buy or borrow your copy so you can read along with us next month!
Debbie posted her wrap-up for March and April! She's also giving away a book of choice (up to $15). Make sure you link up your reviews, and enter them in the Rafflecopter, for a chance to win!
This month Bookish hosted Indie Girl April, an event dedicated to celebrating Indie authors/books by reviewing, interviewing and having guest posts (with awesome giveaways). You can check out all the posts by going to the
welcome page
or checking out the links below!
Evie
| | |
| --- | --- |
| Series: | Stand Alone |
| Genre: | Adult, Horror, Mystery |
| Website: | Ania Ahlborn |
| | Goodreads |
| Review: | To be posted sometime in June |
From indie horror author and bestselling sensation Ania Ahlborn, this brand-new supernatural thriller questions: how far would you go for success, and what would you be capable of if the promise of forever was real?

With his marriage on the rocks and his life in shambles, washed up crime writer Lucas Graham is desperate for a comeback. So when he's promised exclusive access to notorious cult leader and death row inmate Jeffrey Halcomb, the opportunity is too good to pass up. Lucas leaves New York for the scene of the crime—a split-level farmhouse on the gray-sanded beach of Washington State—a house whose foundation is steeped in the blood of Halcomb's diviners; runaways who, thirty years prior, were drawn to his message of family, unity, and unconditional love. Lucas wants to tell the real story of Halcomb's faithful departed, but when Halcomb goes back on his promise of granting Lucas exclusive information on the case, he's left to put the story together on his own. Except he is not alone. For Jeffrey Halcomb promised his devout eternal life…and within these walls, they're far from dead.
Andrea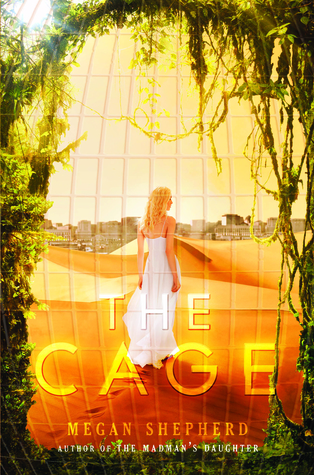 | | |
| --- | --- |
| Series: | The Cage #1 |
| Genre: | Young Adult, Science Fiction, Thriller |
| Website: | Megan Shepherd |
| | Goodreads |
| Review: | |
The Maze Runner meets Scott Westerfeld in this gripping new series about teens held captive in a human zoo by an otherworldly race. From Megan Shepherd, the acclaimed author of The Madman's Daughter trilogy.

When Cora Mason wakes in a desert, she doesn't know where she is or who put her there. As she explores, she finds an impossible mix of environments—tundra next to desert, farm next to jungle, and a strangely empty town cobbled together from different cultures—all watched over by eerie black windows. And she isn't alone.

Four other teenagers have also been taken: a beautiful model, a tattooed smuggler, a secretive genius, and an army brat who seems to know too much about Cora's past. None of them have a clue as to what happened, and all of them have secrets. As the unlikely group struggles for leadership, they slowly start to trust each other. But when their mysterious jailer—a handsome young guard called Cassian—appears, they realize that their captivity is more terrifying than they could ever imagine: Their captors aren't from Earth. And they have taken the five teenagers for an otherworldly zoo—where the exhibits are humans.

As a forbidden attraction develops between Cora and Cassian, she realizes that her best chance of escape might be in the arms of her own jailer—though that would mean leaving the others behind. Can Cora manage to save herself and her companions? And if so . . . what world lies beyond the walls of their cage?
We got our wedding pictures! I have been dying to get these back ever since we got a small sample back in February and they're finally here! I loved looking through all of them, making our parents an album, and figuring out which ones we want to hang on the wall.

We had a few nice weekends where we got to do yard work! I love doing yard work, call me crazy. There's just something about working in the dirt. I pop in my head phones with the latest audio book on my phone - Snow Like Ashes by Sara Raasch - and just get to work.

I finally saw Beauty on the Beast: The Broadway Musical. For being such a musical and Disney nut I cannot believe I haven't seen this prior to now, but it finally came back to down and I bought tickets the second I could! The show was beyond amazing and I've been signing the songs for days. You have to see it if you ever get the chance.
Things I'm Looking Forward to in May
Catching up on series. I know this was something I was hoping to accomplish last month, but . . . I didn't. I'm only four books away from getting this done and then I can start new series (again).

The NBA Playoffs. Okay, I'm not a huge sports gal, but when you're team is in the playoffs, bitch you better be excited. Let's go, Cavs!
Elizabeth
Beneath the light of a full moon, the Nightbloods and Seers are dancing. They are dancing as they await another Awakening, a dream that defines every witch's destiny.

It doesn't matter that the coven is cheering and anticipating her turn into womanhood, because Calli doesn't want any of it. She doesn't want to see the face of the hired hand Isaiah, nor does she desire the pursuits of a very determined Nightblood as she runs from a future with the Ordinary help. She knows that regardless of whether she taps into forbidden magic or not, an Awakening is rumored to hold ultimate power over the Seer who dreams it.

While the other Seers her age are given to their parties, their enchantments, and the lust of Nightblood suitors, Calli must choose how she'll endure the worst of her visions. There may be a way to survive her sleep, but she's not sure she can defeat the truth that will find her when she's wide awake.

Does real love even stand a chance against the darkest of magic?
About My Life in April
I started a new job!
And... It consumes far more time than I would like but I am happy to be able to say that I have become employed in my field of work.

I got a new van... Well used but new to me. I sadly lost my car last month (March) and am now a Caravan owner O_o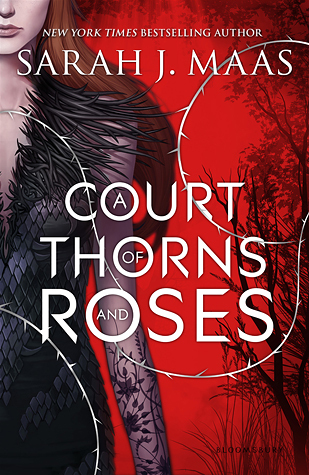 | | |
| --- | --- |
| Series: | A Court of Thorns and Roses #1 |
| Genre: | Young Adult, Romance, Retelling, Fantasy |
| Website: | Sarah J. Maas |
| | Goodreads |
| Review: | To be posted May 3 on Stuck in Books |
A thrilling, seductive new series from New York Times bestselling author Sarah J. Maas, blending Beauty and the Beast with faerie lore.

When nineteen-year-old huntress Feyre kills a wolf in the woods, a beast-like creature arrives to demand retribution for it. Dragged to a treacherous magical land she only knows about from legends, Feyre discovers that her captor is not an animal, but Tamlin—one of the lethal, immortal faeries who once ruled their world.

As she dwells on his estate, her feelings for Tamlin transform from icy hostility into a fiery passion that burns through every lie and warning she's been told about the beautiful, dangerous world of the Fae. But an ancient, wicked shadow grows over the faerie lands, and Feyre must find a way to stop it . . . or doom Tamlin—and his world—forever.

Perfect for fans of Kristin Cashore and George R. R. Martin, this first book in a sexy and action-packed new series is impossible to put down!
I got to see exactly zero of my friends.
First I was supposed to go to Teen Book Con, but my plans fell through for that. Then I was supposed to go to TLA, but I was sick for half and then the other half I had to play catch up BECAUSE of said sickness. Sigh. I really really really miss my friends.
Nephew 1 turned 7.
DO YOU EVEN KNOW HOW OLD THIS MAKES ME FEEL??? I was in 6th grade when that kid was born. Now he's in elementary school and I'm in college and he's so big and smart and ahhh. But yeah, he turned 7. And we had a birthday party for him, at a place where I'm pretty sure Brother 3 and I had just as much fun as (if not more fun than) all the children. There were big slides and obstacle course things and it was a super good time.
The Voice is happening.
And by that I mean that I am a total fangirl for Sawyer Fredericks and I am not ashamed to admit it.
BASEBALL SEASON IS BACK!
Honestly, I think this is the best thing to happen to me this month. I am a die hard Yankees fan, and goodness gracious I am loving watching them play. We don't get every single game down here in Texas (which saddens me), but when we do get a game you better bet I'm sitting down and watchin' it. I missed baseball so muuuuuuuch. YAY for being back!
Things I'm Looking Forward to in May
The end of the semester. May 15th, y'all. School will be over and I'll finally be able to breathe and relax. I cannot wait.

RT? So I'm trying to go to RT for Teen Day. As of right now it's looking extremely iffy because transportation to and from Dallas is apparently an impossible feat. But I'm trying!

Boooooksssss. Yeah, I've got nothing else fun to even possibly look forward to, so I'm gonna drown in books. A Court of Thorns and Roses releases, The Heir releases, Velvet releases, A LOT OF WONDERFUL BOOKS ARE RELEASING. So that'll make up for the stuff I'm not doing. Hehe.
Debbie
Most Popular Review
Most
Popular Non-Review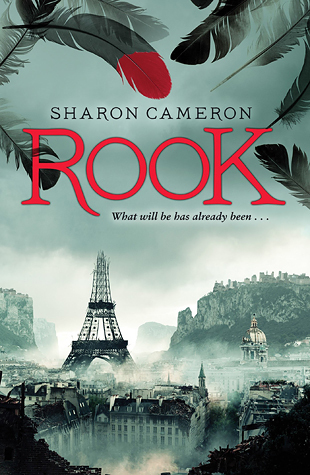 Rook
author Sharon Cameron stopped by Bookish to
detail her life while writing her novel
. Also, readers were given a chance to win one of five copies. Don't miss your chance to enter and to visit the other stops on the tour for reviews and interviews.
Tell us - what went on in your month?! What were some of your favorite books this month? Favorite posts from either your blog or others? What are some new (or old) and noteworthy things we should know about?
Be sure to leave a link!