Hello lovelies! Welcome to
Bookish Digest
- something we'll be putting together at the end of every month to highlight our recent favorite reads and recap any posts you may have missed. We also include an
About My Life
and
Things I'm Looking Forward To
section in an effort for you to get to know us better. Don't forget to tell us in the comments some things that happened to you over the past month so we can get to know you guys better too!
Updates for 2015 TBR Pile Challenge:
Evie
| | |
| --- | --- |
| Series: | Stand Alone |
| Genre: | Adult, Horror, Mystery |
| Website: | Ania Ahlborn |
| | Goodreads |
| Review: | To be posted sometime in June |
From indie horror author and bestselling sensation Ania Ahlborn, this brand-new supernatural thriller questions: how far would you go for success, and what would you be capable of if the promise of forever was real?

With his marriage on the rocks and his life in shambles, washed up crime writer Lucas Graham is desperate for a comeback. So when he's promised exclusive access to notorious cult leader and death row inmate Jeffrey Halcomb, the opportunity is too good to pass up. Lucas leaves New York for the scene of the crime—a split-level farmhouse on the gray-sanded beach of Washington State—a house whose foundation is steeped in the blood of Halcomb's diviners; runaways who, thirty years prior, were drawn to his message of family, unity, and unconditional love. Lucas wants to tell the real story of Halcomb's faithful departed, but when Halcomb goes back on his promise of granting Lucas exclusive information on the case, he's left to put the story together on his own. Except he is not alone. For Jeffrey Halcomb promised his devout eternal life…and within these walls, they're far from dead.
Andrea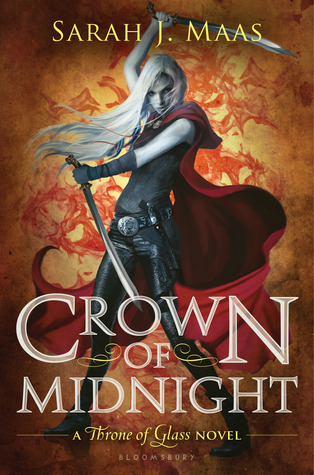 | | |
| --- | --- |
| Series: | Throne of Glass #2 |
| Genre: | Young Adult, High Fantasy, Romance |
| Website: | Sara J. Maas |
| | Goodreads |
| Review: | |
"A line that should never be crossed is about to be breached.

It puts this entire castle in jeopardy—and the life of your friend."

From the throne of glass rules a king with a fist of iron and a soul as black as pitch. Assassin Celaena Sardothien won a brutal contest to become his Champion. Yet Celaena is far from loyal to the crown. She hides her secret vigilantly; she knows that the man she serves is bent on evil.

Keeping up the deadly charade becomes increasingly difficult when Celaena realizes she is not the only one seeking justice. As she tries to untangle the mysteries buried deep within the glass castle, her closest relationships suffer. It seems no one is above questioning her allegiances—not the Crown Prince Dorian; not Chaol, the Captain of the Guard; not even her best friend, Nehemia, a foreign princess with a rebel heart.

Then one terrible night, the secrets they have all been keeping lead to an unspeakable tragedy. As Celaena's world shatters, she will be forced to give up the very thing most precious to her and decide once and for all where her true loyalties lie...and whom she is ultimately willing to fight for.
We got a raccoon in our attic and after about a week of attempting to catch it on our own, it had babies! At the point we called in the pros and after a week of waiting for mama to leave on her own, they had to go up there and and remove her by force. My attic sounded like a war zone. Now we just have to get it cleaned out because it is hella-gross, and reactively toxic, up there.

I caught up on my Goodreads reading goal. Kinda. I'm one book behind, and almost finished with my current read, which is a lot better than the beginning of the month was I was three books behind.

Spring! I abhor winter and cold! Sure the snow is pretty and makes for some great snuggle weather, but ugh. I am so over behind cold and layering up. Cannot wait to bring my hammock out and read in the sunshine and warmth!
Things I'm Looking Forward to in April
Getting back to working in my yard.
I love working in my yard. Last year I had the genius idea to upload audio books on to my phone so I can work in my yard and not lose reading time. (That does remind me that I need to get a book uploaded!)
Catching up on my series . . . again.
I was doing so good, too. While I've already knocked out three books from my
Spring TBR
, I still have 13 books to go.
Elizabeth
| | |
| --- | --- |
| Series: | Splintered #1 |
| Genre: | Young Adult, Retelling, Fantasy |
| Website: | A.G. Howard |
| | Goodreads |
| Review: | - |
This stunning debut captures the grotesque madness of a mystical under-land, as well as a girl's pangs of first love and independence.




Alyssa Gardner hears the whispers of bugs and flowers—precisely the affliction that landed her mother in a mental hospital years before. This family curse stretches back to her ancestor Alice Liddell, the real-life inspiration for Lewis Carroll's Alice's Adventures in Wonderland. Alyssa might be crazy, but she manages to keep it together. For now.




When her mother's mental health takes a turn for the worse, Alyssa learns that what she thought was fiction is based in terrifying reality. The real Wonderland is a place far darker and more twisted than Lewis Carroll ever let on. There, Alyssa must pass a series of tests, including draining an ocean of Alice's tears, waking the slumbering tea party, and subduing a vicious bandersnatch, to fix Alice's mistakes and save her family. She must also decide whom to trust: Jeb, her gorgeous best friend and secret crush, or the sexy but suspicious Morpheus, her guide through Wonderland, who may have dark motives of his own.
I had another car die on me... Seriously have no idea why vehicles don't last with me lol. I was so careful and yet one day while helping my brother, it decided to take a leap towards its final death.

I reorganized my entire apartment. This doesn't seem like much but when I say entire it includes my books. This means I moved A LOT of books over the period of two days. It was a lot of work but I'm happy with how it turned out.

Had a job interview. Doesn't seem like much but it is. This was an interview for a job in my field and I know if I want it the job is mine.
Things I'm Looking Forward to in April

The Indie Girl Event. It's not as big as it has been previous years but as always I am so excited to feature many wonderful women on the blog. Make sure you look out for all of our awesome Indie Girl posts <3

Hopefully getting organized again. I have been a complete mess for months. Being off work and out of school has really thrown me (add in one dead car). I am trying to get back into a schedule and regain control!


Jessica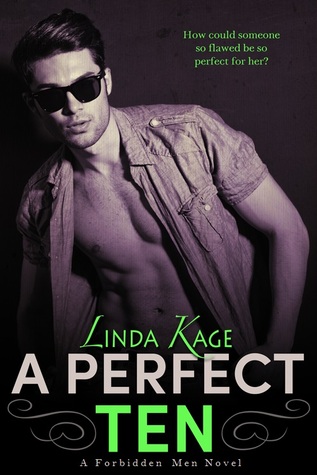 | | |
| --- | --- |
| Series: | Forbidden Men #5 |
| Genre: | New Adult, Romance, Contemporary |
| Website: | Linda Kage |
| | Goodreads |
| Review: | To be posted April 5 on Stuck in Books |
Let your hair down, Caroline, they said. It'll be fun, they said.
I know I've closed myself off in a major way over the past year, ever since "the incident" where I messed up my life completely. It's past time I try to live again or just give up altogether. But this is quite possibly the craziest thing I've ever done. In a last ditch effort to invigorate myself, I'm standing outside Oren Tenning's bedroom, I just peeled off the sexiest pair of underwear I own, and my hand is already raised to knock. My brother would disown me for doing anything with his best friend, and he'd probably kill Oren. But if I play my cards right, no one will ever know about this. Not even Ten.

Maybe after tonight, I'll finally get over this stupid, irrational crush I hate having on the biggest jerk I've ever met. Or maybe I'll just end up falling for him even harder. Maybe I'll discover there's so much more to my crude, carefree hunk than meets the eye.
Austin Book Fest! I had the pleasure of being Rachel Harris' table assistant at ABF, and it was such a good time! I love that woman. I also got to see Jennifer L. Armentrout--who is absolutely fantastic--and Shelly Crane, Molly McAdams, Chelsea Fine, and MORE awesome people. I met Lauren Blakely who was so sweet to me. Monica Murphy, again--so sweet. And I met Katie McGarry who is honestly and truly one of the most amazing humans I've ever met. I feel so lucky to have gotten time to chat with her. I adore Katie so, so much. (And clearly, I have not been able to stop gushing about her.)

The Orphan Queen book signing! Jodi Meadows and Brodi Ashton had a signing at a bookstore super near where I live earlier in the month. They were so funny and nice and I am such a fan. AND I got to see some of my best friends--Mary from Mary Had a Little Book Blog and Katie from Mundie Moms. Two awesome Texas bloggers and seriously awesome people. It was such a great time!

The Walking Dead season finale. Hi my name is Jessica and I am officially lost for the next however long while waiting for more of my favorite show. WHAT EVER SHALL I DO???

New. Series. Addictions. Linda Kage's Forbidden Men series. I am so caught up in it. I'm finishing book 2 tonight (yes, I read book 5 already--I started with book 5, then went to book 1, then book 2, and next will be book 3. They can be read out of order), and let me tell you right now that this series is so full of awesome. Each story is so DIFFERENT yet they interconnect and I love it so much. And my other obsession--Kylie Scott's Stage Dive series. I grabbed Lick because I adore the premise of getting married on a whim. Don't know why, but those stories work for me waaaay more often than not. So I read Lick, then I read Play and loved that one even MORE (Mal is hilarious and the whole book makes my heart soar), and now I'm on Lead. And will probably 1-click Deep sometime within the next 24 hours. Because these books, y'all. THESE BOOKS. (I haven't marked them on GR yet. I'm gonna re-read them soon and mark them then. Because I like excuses to re-read my favorite things.)

Things I'm Looking Forward to in April
Teen Book Con! The author I'm most excited to meet is Susane Colasanti. I am such a huge fangirl for her books. And, of course, I'll get to see my bookish friends! I love hanging out with them. They are some of my favorite people

TLA. I'm aiming to go to TLA this year. Hopefully it'll work out, but I'm pretty sure no matter what I'll get to spend at least a little time with Victoria Scott so I am ALL OF THE EXCITEMENT. Love. Her. So. Hard.

Finally getting to read some of the books I've been excited to read! I have Fall with Me by Jennifer L. Armentrout. Can't wait to finally take time for that. And Chosen Thief by Scarlett Dawn. And--hopefully--the first BDB book. I have bunches of books I've been dying to have time for, and I'm hoping so hard I make it to at least SOME of them in April. *fingers crossed*
Debbie
Tell us - what went on in your month?! What were some of your favorite books this month? Favorite posts from either your blog or others? What are some new (or old) and noteworthy things we should know about?
Be sure to leave a link!