Over the past couple months I've noticed that every few books, despite my feelings toward them, get pushed farther and father back in terms of writing a review - and the farther back from the read date they get pushed back, my notes make less and less sense.
I don't know why it happens, but it does. Maybe I have too much to say and don't know how to pick out the important things or maybe I don't have enough to say. Or maybe the laziness in me just wins out. Who knows.
So without further ado . . . A few of these backlogged reviews :)
Title: The Friday Society
Format: ARC Paperback - 437 pages
Published By: Dial on December 6, 2012
Genre: Young Adult, Historical Fiction, Science Fiction
An action-packed tale of gowns, guys, guns –and the heroines who use them all




Set in turn of the century London, The Friday Society follows the stories of three very intelligent and talented young women, all of whom are assistants to powerful men: Cora, lab assistant; Michiko, Japanese fight assistant; and Nellie, magician's assistant. The three young women's lives become inexorably intertwined after a chance meeting at a ball that ends with the discovery of a murdered mystery man.




It's up to these three, in their own charming but bold way, to solve the murder–and the crimes they believe may be connected to it–without calling too much attention to themselves.




Set in the past but with a modern irreverent flare, this Steampunk whodunit introduces three unforgettable and very ladylike–well, relatively ladylike–heroines poised for more dangerous adventures.
The Friday Society is such a fun read. These three woman who have nothing in common, other than they're all kick ass, manage to come together in the face of a murder. Solving it, not committing it. The writing is witty, the mystery wonderfully done (and shocking), and characters delightful. While it is a long book, it doesn't read like one.
I guarantee you'll find something of yourself in one of these three woman. Whether it's Cora's thirst of knowledge, Michiko's loyalty and dedication, or Nellie's soft romantic heart and love of all things shiny. These three young women are strong and smart in a period of history where they were meant to just be pretty faces.
The Friday Society is an amusing and cleverly written novel and I know you'll have a hard time picking a favorite among these three ladies.
Series: The Lunar Chronicles #3
Format: Hardcover - 350 pages
Published By: Feiwel & Friends on February 4, 2014
Genre: Young Adult, Retelling, Science Fiction
Rapunzel's tower is a satellite. She can't let down her hair—or her guard.




In this third book in the bestselling Lunar Chronicles series, Cinder and Captain Thorne are fugitives on the run, with Scarlet and Wolf in tow. Together, they're plotting to overthrow Queen Levana and her army.




Their best hope lies with Cress, who has been trapped on a satellite since childhood with only her netscreens as company. All that screen time has made Cress an excellent hacker—unfortunately, she's just received orders from Levana to track down Cinder and her handsome accomplice.




When a daring rescue goes awry, the group is separated. Cress finally has her freedom, but it comes at a high price. Meanwhile, Queen Levana will let nothing stop her marriage to Emperor Kai. Cress, Scarlet, and Cinder may not have signed up to save the world, but they may be the only ones who can.
Oh things are happening. So many thing are happening. I cannot tell you how much I enjoy
Cress
. Marissa is seriously amazing at writing and weaving together stories and characters and just making you cry out for more! I can honestly say that I enjoyed
Cress
more than
Cinder
or
Scarlet
- which is really saying something because I can't say enough good things about those two.
There is so much tension in this book - especially because everybody gets separated and now it's become a mission to reunite and stay alive. Marissa pushes her characters to the limit in this book and just when you think they can't take anymore . . . I just have so much love for this series and I cannot wait until I get my hands on
Fairest
, not to mention
Winter
!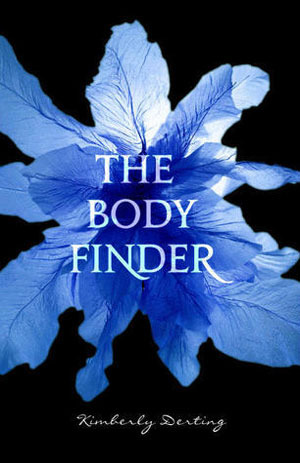 Series: The Body Finder 1
Format: Paperback - 329 pages
Published By: HarperCollins on March 6, 2010
Genre: Young Adult, Paranormal, Romance
A gripping tale of a girl with a morbid ability that could lead her to a killer . . . and the boy who would never let anything happen to her.

Sixteen-year-old Violet Ambrose is grappling with two major issues: Jay Heaton and her unusual so-called gift. While her confusing feelings for her best friend are new, she has been able to sense dead bodies—or at least those that have been murdered—and the imprints that attach to their killers since she was a little girl. Violet has never considered her ability useful, but now that a serial killer has begun terrorizing her small town she realizes she might be the only person who can stop him.

Fiercely protective of her, Jay agrees to help Violet search for the murderer. But even as she's falling in love, Violet is getting closer to discovering a killer . . . and becoming his prey herself.
I simply enjoyed
The Body Finder
! I love the character of Violet - she is one of the characters who anger you because they're making stupid decisions, but at the same time you try not to fault them because they're trying to help. The first two thirds of the book was mostly getting to know these characters and their dynamics, with the murders taking a backseat. It isn't until Violet becomes a target (not a spoiler, it's in the synopsis!) that things really start to get tense. That last third is so gripping and nerve wracking that it makes up for the slower bits of the first parts. The chapters told from the killer's perspective also really add to the tension and mystery of this novel. Best part - I was completely taken by surprise as to the killer's identity!