Some of you may know that I originally had my own blog, Beauty but a Funny Girl, prior to joining Bookish (now Bookish Lifestyle). I was thinking the other day about all those reviews I left behind when I transferred and thought they should get some love too - no matter how badly written and newbie they come off! So I present to you: Throwback Thursday Reviews! Every once in a while I'll post an old review from Beauty but a Funny Girl, unedited in terms of content, with the exception of any spelling or grammatical mistakes. It's definitely going to be fun and interesting to see how my tastes and writing style have changed over the years!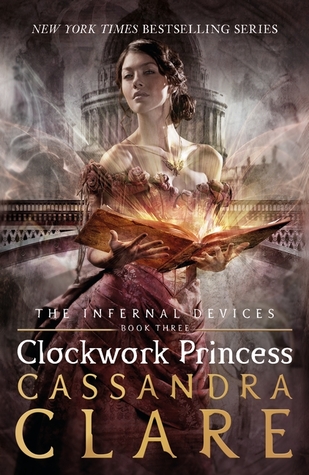 Series:
Genre:

Young Adult, Steampunk, Romance, Historical Fiction

Publication.Date:
March 19, 2013
Pages:
568 (Hardcover)
Published By:
Margaret K. McElderry Books
Website:
Cassandra Clare


Clockwork Princeess on Goodreads
My review copy:

Bought



Where to get:

A net of shadows begins to tighten around the Shadowhunters of the London Institute. Mortmain plans to use his Infernal Devices, an army of pitiless automatons, to destroy the Shadowhunters. He needs only one last item to complete his plan: he needs Tessa Gray.
Charlotte Branwell, head of the London Institute, is desperate to find Mortmain before he strikes. But when Mortmain abducts Tessa, the boys who lay equal claim to her heart, Jem and Will, will do anything to save her. For though Tessa and Jem are now engaged, Will is as much in love with her as ever.
As those who love Tessa rally to rescue her from Mortmain's clutches, Tessa realizes that the only person who can save her is herself. But can a single girl, even one who can command the power of angels, face down an entire army?
Danger and betrayal, secrets and enchantment, and the tangled threads of love and loss intertwine as the Shadowhunters are pushed to the very brink of destruction in the breathtaking conclusion to the Infernal Devices trilogy.


Have you ever read a book and then wondered how long until you felt normal again?​
Because this is that book. I have the biggest book hangover that I've every had. It's awful. I just want to curl into a ball and make the world go away.
I just want to talk about what I'm feeling. The ending of this book - OMG! I can't even... I just can't. The epilogue was just so beautifully done and bittersweet that it's heart wrenching.​ ​Why? Why would you do this to me, Cassandra Clare? What did I ever do to you to deserve such treatment?!
I mean, I knew it was inevitable. I knew it was going to happen, but to read it? To actually experience it! Rip out my heart and stomp on it. I don't want to feel anymore.
But I'm getting ahead of myself. I did just start off with the my take on the epilogue - but that's the part that got me so bad. That's where you cry until you can't cry no mo'!
Clockwork Princess is more than I could have hoped for as a conclusion to the Infernal Devices series. Everything was wrapped until into a neat little Happily Ever After type bow and I was okay with that.​
​I just can't express enough how much I love these characters. How much they have become a part of my life. I root for them, cry for them, feel for them.
I love that the Lightworm - er, Lightwood - b​​​​r​others became a bigger part of the story and a real integral part of the Institute.​ ​Gabriel I think had the biggest change of all, which was nice to see as his character began to grow on me. I also tended to agree with the characters when they said he and Will were quite similar.
Cecily took a lot longer to grow on me. She seemed whiny and needy. I wasn't a fan, but she got better towards the end of the book.​ ​I could have down without her and Gabriel, but I was pulling so hard for Sophie and Garbiel. Top cute, those two.
Henry and Charlotte were also just... Henry and Charlotte. I loved they are on the same page, except when it comes to baby names. It was very nice to seem them finally understanding one another. I was also a huge fan of the way Charlotte stood behind her Shadowhunters to do what was right. Throughout the series she has really shown to be a true leader and I love that about her - especially considering the time period she is living in.
Magnus was Magnus. Cheeky and amusing. I do love him.

The narration is beautiful and I love that we get to be in all these character's head and find out what they are thinking and feeling. I've felt this has been a pivotal narration setup since Clockwork Angel, but in this installment it really shines through, especially considering all the emotions and problems our characters face. Not to mention the resolutions that come about with each of them.
And now, for our love triangle - which was done very nicely. I love everything about these three. The bond between Will and Jem is something that will last and last. I'm getting a little teary-eyed just thinking about some of the things that happened between them. (My coworker already think I'm nuts, so it's totally okay.)​ ​The love between Jem and Tessa is​ ​so special and unique, just as is the love between Will and Tessa.​ ​I can't say which character or when, but it's commented that Tessa's love for Will is different than Tessa's love for Jem and it really truly is. That's what makes this love triangle so great. And lovely. And real. And heartbreaking.
Which brings me back to the epilogue... No, I can't. It still hurts. I am in pain over this book. ​
​If you've read this series, but are holding out reading the last installment, something I'm clearly guilty of, just put yourself out of your misery. Read this amazing book and get your heartbreak done and over with. Rip off the bandaid.​