Hi guys! Welcome to the
1st discussion
for our
January Read Along:
Throne of Glass
by
Sarah J. Maas
! Huge thank you to everyone who joined us and read the first 28 chapters on time to meet up with us and discuss them (or rather swoon over them) together!
About the Book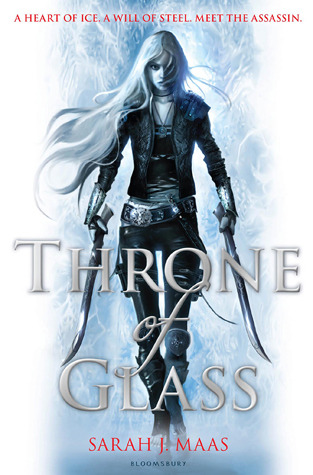 Throne of Glass by Sarah J. Maas
Series: Throne of Glass #1
Published: August 2, 2012 by Flux
Genre: Young Adult, Fantasy, Romance
Find it:
Goodreads
|
Amazon
|
Barnes & Noble
|
IndieBound
Meet Celaena Sardothien.
Beautiful. Deadly.
Destined for greatness.

In the dark, filthy salt mines of Endovier, an eighteen-year-old girl is serving a life sentence. She is a trained assassin, the best of her kind, but she made a fatal mistake: she got caught.

Young Captain Westfall offers her a deal: her freedom in return for one huge sacrifice. Celaena must represent the prince in a to-the-death tournament—fighting the most gifted thieves and assassins in the land. Live or die, Celaena will be free. Win or lose, she is about to discover her true destiny. But will her assassin's heart be melted?
A bit of assistance with names from Sarah's website if you need it. :)
Here's Andrea with the brilliant Sarah J. Maas (along with Erin Bowman, Kat Zhang, and Susan Dennard) at one of her book signings!
And here is Jessica meeting Sarah, and signing Sarah's copy of Throne of Glass, at a festival.
Discussion Questions
1) Did you read The Assassin's Blade? If so, do you think it enhanced your reading of Throne of Glass? If you haven't, do you plan to go back and do so before continuing with the series?
2) Who do you think is behind the Champions murders?
3) Thus far, what are some of your favorite scenes from Throne of Glass?
4) Have you tried sticking to Sarah's pronunciations or did you make up your own way to say all these names
5) Is this the first time you've read Throne of Glass? We're you like Andrea and Jessica and completely unsure as to why you waited so long to read it? Or, if you reread it for the Read Along, did your reading experience change from the first time?
6) Okay, let's just get into this: As of this moment, who are you more fond of--Chaol or Dorian?
7) What do you think about Princess Nehemia and her friendship with Celaena? Are you a fan, or are you giving the princess a side-eye?
8) How are we liking Nox? Do you think he'll end up as someone to count on in the future, or should we not trust him?
9) The writing! Are you loving Sarah's writing as much as I am? Because seriously--it is so gorgeous.
10) Do you have any predictions for the rest of the book? Anyone finding out Lady Lillian's real identity? Betrayals? More friendships? (If you've already read the other half, skipping this one would probably be best. Ha.)
Please leave your answers in the comment section below
and don't forget to respond to other comments so we can have an amazing discussion! We'll be checking in and responding as well :)
However, please only reference things that happen in chapters 1-28.
You may make guesses or speculations as to what happens in the second half of the book (or what you thought would happen when you finished these chapters), but
do not spoil it for those who may have not yet finished the book
.
Our Favorite Quotes
After a too-long moment, the Crown Prince spoke. "I don't quite comprehend why you'd force someone to bow when the purpose of the gesture is to display allegiance and respect." His words were coated with glorious boredom.
"Over a million? A million books?" Her heart leapt and danced, and she cracked a smile. "I'd die before I even got through half of that!"

"You like to read?"

She raised an eyebrow. "Don't you?"

A dead, empty space opened inside her. Needing to change the subject, she asked, "Why are none of your folk here?"

"Guards are of no use in a library." Oh, how wrong he was! Libraries were full of ideas - perhaps the most dangerous and powerful of all weapons.
She stared at the castle unflinchingly, her form silhouetted against the blazing brightness that sat on the edge of the Avery River. Clouds gathered above them and she raised her head. Through a clearing in the swirling mass, a cluster of stars could be seen. He couldn't help thinking that they gazed down at her.
"Celaena." He stopped a few feet from the guards. His eyes were rich, molten brown.

"Yes?" Her heartbeat steadied.

"You look rather pretty today," was all he said before the doors opened and they walked forward.
Chaol chuckled at her agitation and pointed his sword at the rack, allowing her to get to her feet. "Pick another--something different. Make it interesting, too. Something that will make me sweat, please."

"You'll be sweating when I skin you alive and squish your eyeballs beneath my feet," she muttered, picking up the rapier.

"That's the spirit."
"As my friend, you should either bring me along, or keep me company."

"Friend?" he asked.

She blushed. "Well, 'scowling escort' is a better description. Or 'reluctant acquaintance,' if you prefer." To her surprise, he smiled.
Never too late to join!
The second discussion post for chapters 28-55 will be posted on
January 30
, followed by the vote for March's read on on
January 31
! Also, don't forget that everyone who takes part in our January TBR Pile Read Along is going to get
5 extra entries into our July giveaway for the TBR Pile Reading Challenge
!
And remember, it's never to late to sign up for
2015 TBR Pile Reading Challenge
, but there is only one day left to be an early participant - which means even more extra entries for our giveaway in July! So spread the word and invite your friends to join the fun!