Hi guys! Thanks for joining our 2016 TBR Pile Book Club! As you know, every other month we'll be hosting these Book Club discussions to help you (and us!) tackle our TBR Pile!
Two weeks ago we posted a voting poll and asked you to
vote on the book you'd like to read
together with us in January! And the winner is (by two votes!):
A Thousand Pieces of You by Claudia Gray!
About the Book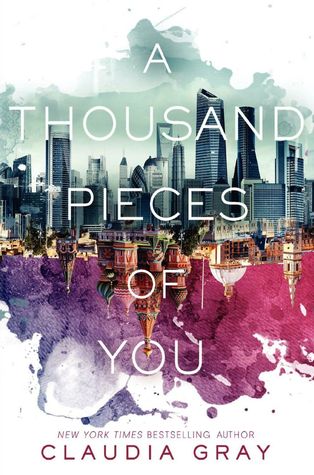 A Thousand Pieces of You by Claudia Gray
Series:
Firebird #1
Published:
November 4, 2014 by Harper Teen
Genre:
Young Adult, Science Fiction, Romance
Find it:
Goodreads
|
Amazon
|
Barnes & Noble
|
IndieBound
Cloud Atlas meets Orphan Black in this epic dimension-bending trilogy by New York Times bestselling author Claudia Gray about a girl who must chase her father's killer through multiple dimensions.

Marguerite Caine's physicist parents are known for their groundbreaking achievements. Their most astonishing invention, called the Firebird, allows users to jump into multiple universes—and promises to revolutionize science forever. But then Marguerite's father is murdered, and the killer—her parent's handsome, enigmatic assistant Paul— escapes into another dimension before the law can touch him.

Marguerite refuses to let the man who destroyed her family go free. So she races after Paul through different universes, always leaping into another version of herself. But she also meets alternate versions of the people she knows—including Paul, whose life entangles with hers in increasingly familiar ways. Before long she begins to question Paul's guilt—as well as her own heart. And soon she discovers the truth behind her father's death is far more sinister than she expected.

A Thousand Pieces of You explores an amazingly intricate multi-universe where fate is unavoidable, the truth elusive, and love the greatest mystery of all.
Discussion Post:
There will be one discussion post on
May 23
where we will discuss our favorite quotes, characters, scenes, and so much more!
Let's have lots of fun tacking our TBR Piles together and then discussing the books we've read over a cup of delicious tea or coffee. :) Don't forget to tell us if you'll be joining or not - be sure to check your local library if you don't have a copy and still want to join!

New feature: Is there a book you would like us to vote on for the next TBR Pile Book Club? Leave your choice in the comments below and I'll add it to a future poll! (Thanks to one of our challenge participants for this idea!)
Never Too Late To Join!
And remember, it's never to late to sign up for
2016 TBR Pile Reading Challenge
and join our monthly TBR Pile Book Club, so spread the word and invite your friends to join the fun!