I am thrilled to be a stop on the book tour for The Forbidden Orchid by Sharon Biggs Waller, hosted by Rockstar Book Tours! I have a review for your reading pleasure, but be sure to check out the tour schedule below, or click the banner above, for more!
Don't forget to enter the giveaway!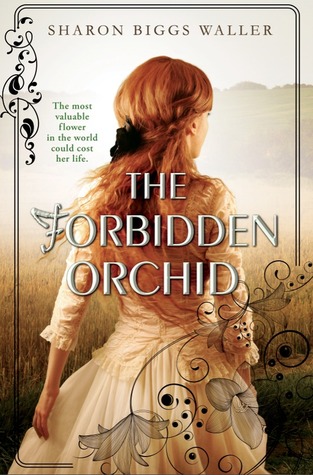 Series:
Genre:

Young Adult, Historical Fiction, Realistic Fiction, Romance

Publication.Date:
March 8, 2016
Pages:
432 (ARC)
Published By:
Viking
Website:
Sharon Biggs Waller


The Forbidden Orchid on Goodreads
My review copy:

Received in exchange for an honest review



Where to get:




Staid, responsible Elodie Buchanan is the eldest of ten sisters living in a small English market town in 1861. The girls' father is a plant hunter, usually off adventuring through the jungles of China.

Then disaster strikes: Mr. Buchanan fails to collect an extremely rare and valuable orchid, meaning that he will be thrown into debtors' prison and the girls will be sent to the orphanage or the poorhouse. Elodie's father has one last chance to return to China, find the orchid, and save the family—and this time, thanks to an unforeseen twist of fate, Elodie is going with him. Elodie has never before left her village, but what starts as fear turns to wonder as she adapts to seafaring life aboard the tea clipper The Osprey, and later to the new sights, dangers, and romance of China.

But even if she can find the orchid, how can she find herself now that staid, responsible Elodie has seen how much the world has to offer?

(Goodreads)
Quotes obtained from an ARC copy and are subject to change.
"I think you mean aspersions."




Deacon Wainwright stood up. "It's rude to correct someone, particularly for a woman to correct a man, or has no one ever told you so?"




I stood up, too. "Fine. You may go on saying the wrong things and looking ridiculous for it."
The bay was filled with graceful fishing boats, each one's bow painted with a black-and-white eye. Alex told me the Chinese believed the painted eye helped the boats see their way through the water. Foochow, ahead of us, was beautiful, with a long bridge stretching out into the water. There were two pagodas towering over the walls of the city, one black and one white, each level stacked on top of the next like wedding cake. The striking hills beyond tumbled off into the distance to mysterious places unknown. I felt an eager tug, yearning to explore them. I hoped my exploration of China would not begin and end in Foochow.
Miss Winslow left me to rest, but I couldn't. I lay staring up at the beamed ceiling. Secrets, secrets. Seems everyone has a secret, Mr. Howell had said. I had always assumed that men went merrily about their lives, able to choose their own destinies. But when I had chosen to stow away, I had no understanding that the world cold be like that storm I'd experienced on the sea - death lying just under the surface, biding its time until it build into a wave and sank the boat.
I loved my family, but I wanted to take my place in the world. My father had named me after a wildflower, and I knew now that wildflowers could not thrive inside of greenhouses.




Papa's mention of Mr. Darwn reminded me of the final line in his book: from so simple a beginning, endless forms most beautiful and most wonderful have been, and are being evolved.


I had to continue evolving too.
Sharon's debut young adult novel,
A Mad, Wicked Folly
was one of my favorite reads of 2015
. Historical novels where women are fighting for their voices are a big "Give me this book now!" Much like Vicky, Elodie is longing for more.
She wants to be able to travel the world with her father and find adventure, but it stuck at home caring for her mother and nine younger sisters.
Her father (who comes home roughly once a year, impregnates his wife, then leaves again), is a plant hunter and searches the world for new and exotic plants and flowers.
After a series of events (that's I won't elaborate on because spoilers), Elodie, her father, and an adorable Russian named Alex head off to the remote regions of China in search of The Queen's Fancy. Speaking of Alex, and I won't go too much into the details of their relationship because I don't want to ruin anything, but
due to their circumstances and the time period, it was a slow burn of a relationship
that made all the sense in the world. Some of the scenes between these two are breathtakingly cute and I took to Alex right away, and
not just because of his dog, Kukla
.
Sharon
knows how to write amazing women
in a time where women were voiceless. Elodie is an
exceptionally strong character
(if her and Vicky's stories weren't 48 years apart, I could see them becoming fast friends) who not only dreams of more but eventually
decides to take more
. She doesn't take things at face value and questions the local doctor, the Deacon, her father, and every man that tells her she can't because she is a woman and has a "delicate constitution." One of the scenes that made me laugh occurs after the Deacon tells her to get ride of her orchid and has his mother explain to Elodie why:
"The bottom half, this . . . pouch" - she was whispering so quietly that I had to lean in to hear her - "resembles a man's . . . parts. And the top of this flower resembles a lady's" - she waved her hand below her waistband - "bits."


"Oh," I said, I looked at the plant, and I could see it, at least I thought I could see it, having never seen the male part myself, but it made sense. Then I couldn't help it. I began to laugh and laugh despite Mrs. Wainright's sputters of indignation.

And I could not stop.
Sharon Biggs Waller grew up around artists and developed a passion for Edwardian history and the Pre-Raphaelites when she moved to England in 2000. She did extensive research on the British suffragettes for her novel, A MAD, WICKED FOLLY when she wasn't working as a riding instructor at the Royal Mews in Buckingham Palace and as a freelance magazine writer. She also writes non-fiction books about horses under her maiden name, Sharon Biggs. She is a dressage rider and trainer and lives on a 10-acre sustainable farm in Northwest Indiana with her British husband, Mark. Visit her at www.sharonbiggswaller.com.


Tour Schedule