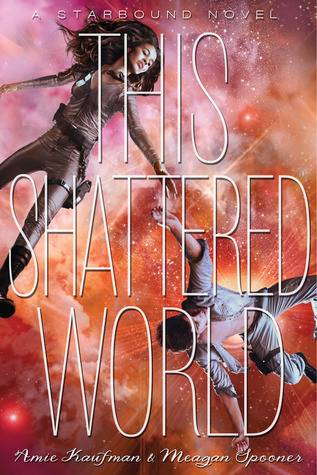 Where to get:


The second installment in the epic Starbound trilogy introduces a new pair of star-crossed lovers on two sides of a bloody war.

Jubilee Chase and Flynn Cormac should never have met.

Lee is captain of the forces sent to Avon to crush the terraformed planet's rebellious colonists, but she has her own reasons for hating the insurgents.

Rebellion is in Flynn's blood. Terraforming corporations make their fortune by recruiting colonists to make the inhospitable planets livable, with the promise of a better life for their children. But they never fulfilled their promise on Avon, and decades later, Flynn is leading the rebellion.

Desperate for any advantage in a bloody and unrelentingly war, Flynn does the only thing that makes sense when he and Lee cross paths: he returns to base with her as prisoner. But as his fellow rebels prepare to execute this tough-talking girl with nerves of steel, Flynn makes another choice that will change him forever. He and Lee escape the rebel base together, caught between two sides of a senseless war.

(Goodreads)
Amie and Meagan have written a different sort of series - to me anyway. I've read plenty of series that have companion novels or take place in the same universe with every changing main characters, but what I like about what these two have done is there is an ultimate endgame: Take out the bad guys. And with each addition to their series, not only are introduced to new bad ass characters (and revisiting old favorites like OTP Lilac and Tarver), but we're gaining more insight into the horror that is LaRoux Industries.
This Shattered World starts out innocent enough. Jubilee is having a drink at her favorite local bar when a rather attractive young man walks over to have a chat. Jubilee lightly flirts back before telling him to scram, only to have him pull a gun on her. Jubilee, a well-trained and well-known soldier, fights back as best she can but in the end Flynn is able to overpower her and take her back to his rebel base.
What's intriguing about This Shattered World is that these two slowly start to realize they are on the same side. You have soldiers attempting to keep the peace and order, but you also have rebel forces wanting answers and basic necessities. They're not really a war with one another, but at the same time they are. Being on two sides of the same coin makes for an interesting dynamic between Jubilee and Flynn. Both of them are held in high-esteem by their individual "sides" and to watch their opinions of one another slowly change and morph makes for an excellent narrative.
Unfortunately, I'm not really feeling the love between Jubilee and Flynn. Their relationship is hard for me to swallow and I while I see it as a relationship with potential, I don't see it as the way Amie and Meagan presented it. They're both great characters and stand well on their own, but their relationship fell flat for me. Forced, if you will.
That's not to say I didn't enjoy
This Shattered World
, I did. The Whispers the Lilac experienced in
These Broken Stars
pop up again and
have a more serious effect to the people of Avon
than to her, but I love that this is something Amie and Meagan are showing as
more than just a fluke
. That whatever
LaRoux Industries has done is effecting more planets and people than we originally suspected.
Amie and Meagan keep up their excellent narration - and I still can't tell that it's two separate writers. The voices are strong and pronounced, the characters descriptive, and the plot engaging and full of momentum. I cannot wait to find out what happens in Their Fractured Light.