Hi guys! Welcome to the 2nd discussion for our September Read Along: We Were Liars by E. Lockhart! Huge thank you to everyone who joined us and read chapters 1-43 a few weeks ago and to those who are here to discuss chapters 43-87!


About the Book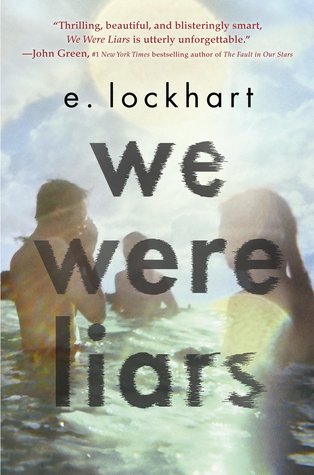 We Were Liars by E. Lockhart
Series: Standalone
Published: May 13, 2014 by Delacorte Press
Genre: Young Adult, Mystery, Realistic Fiction, Suspense
Find it:
Goodreads
|
Amazon
|
Barnes & Noble
|
IndieBound
A beautiful and distinguished family.
A private island.
A brilliant, damaged girl; a passionate, political boy.
A group of four friends—the Liars—whose friendship turns destructive.
A revolution. An accident. A secret.
Lies upon lies.
True love.
The truth.

We Were Liars is a modern, sophisticated suspense novel from National Book Award finalist and Printz Award honoree E. Lockhart.

Read it.
And if anyone asks you how it ends, just LIE.
Discussion Questions
1) All the Liars come up with their own life motto. What would yours be?

2) Was the ending a surprise or did you see it coming?

3) Now that you've finished and probably had some time to digest the ending, what do you think: Hallucinations or ghosts?

4) Do you think the crime was successful in any way?

5) Liars is a first-person narrative, but that narrative includes fairy tales, hallucinatory episodes of violence and scenes that are repeated with new interpretations at different points in the story. Do you think this hinders Cady's reliability as a narrator?
Please leave your answers in the comment section below and don't forget to respond to other comments so we can have an amazing discussion! We'll be checking in and responding as well :)
Our Favorite Quotes
I half expect the boys to unpack a picnic - they have a canvas bag with them - but instead Gat and Johnny begin climbing the rocks. They've done it before, I can tell. They're barefoot, and the climb to a high point twenty-five feet above the water, stopping on a ledge that hangs over the sea.

I watch them until they are settled. "What are you doing?"

"We are being very, very manly," Johnny calls back.
I will prove myself storng, when they think I am sick.

I will prove myself brave, when they think I am weak.
Gat was my love, my first and only. How could I let him go?

He was a person who couldn't fake a smile but smiled often. He wrapped my wrists in whtie gauze and believed wounds needed attention. He wrote on his hands and asked me my thoughts. His mind was restless, relentless. He didn't believe in God anymore and yet he still wished that God would help him.
I suffer migraines. I do not suffer fools.

I like a twist of meaning.
Never too late to join!
Check back later today to vote for November's read along book! Also, don't forget that everyone who takes part in our September TBR Pile Read Along is going to get 5 extra entries into our giveaway for the TBR Pile Reading Challenge!
And remember, it's never to late to sign up for 2015 TBR Pile Reading Challenge! Head on over to our
2015 TBR Pile Reading Challenge Update
post to sign up if you haven't already. And if you haven't yet, stop by
Jessica's wrap-up post for July and August
to link up your reviews from your own TBR Pile reviews and win a book of your choice!