Hi guys! Thanks for joining our
2015 TBR Pile Reading Challenge
! As you know, every other month we'll be hosting TBR Pile Read-a-Longs to help you (and us!) tackle our TBR Piles :)
Two weeks ago we posted a voting poll and asked you to
vote on the book you'd like to read
together with us in May! And the winner is . . . *drum roll*
Great by Sara Benincasa!
About the Book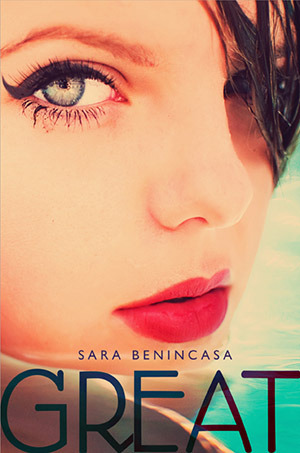 Great by Sara Benincasa
Series:
Standalone
Published:
April 8, 2014 by HarperTeen
Genre:
Young Adult, Realistic Fiction, Retelling, Romance
Find it:
Goodreads
|
Amazon
|
Barnes & Noble
|
IndieBound
In Sara Benincasa's contemporary retelling of The Great Gatsby, a teenage girl becomes entangled in the drama of a Hamptons social circle, only to be implicated in a tragedy that shakes the summer community.

Everyone loves a good scandal.

Naomi Rye usually dreads spending the summer with her socialite mother in East Hampton. This year is no different. She sticks out like a sore thumb among the teenagers who have been summering (a verb only the very rich use) together for years. But Naomi finds herself captivated by her mysterious next-door neighbor, Jacinta. Jacinta has her own reason for drawing close to Naomi-to meet the beautiful and untouchable Delilah Fairweather. But Jacinta's carefully constructed world is hiding something huge, a secret that could undo everything. And Naomi must decide how far she is willing to be pulled into this web of lies and deception before she is unable to escape.

Based on a beloved classic and steeped in Sara Benincasa's darkly comic voice, Great has all the drama, glitz, and romance with a terrific modern (and scandalous) twist to enthrall readers.
Read-A-Long Schedule:
There will be two discussion posts. For each discussion we'll be talking about favorite quotes, characters, and scenes!
5/15: chapters 1-7
5/30: chapters 7-14
Let's have lots of fun tacking our TBR Piles together and then discussing the books we've read over a cup of delicious tea/coffee :) Don't forget to tell us if you'll be joining or not - be sure to check your local library if you don't have a copy and still want to join!
Never Too Late To Join!
And remember, it's never to late to sign up for 2015 TBR Pile Reading Challenge and/or join our monthly Read Along, so spread the word and invite your friends to join the fun! If you missed the early sign-ups you'll have another chance to sign up, and link your reviews, on Debbie's March - April Wrap Up that will be posted April 25.