Hi guys! Welcome to the
2nd discussion
for our
January Read Along:
I'll Give You the Sun
by
Jandy Nelson
! Huge thank you to everyone who joined us and read the first half of the book on time to meet up with us and discuss them (or rather swoon over them) together!
About the Book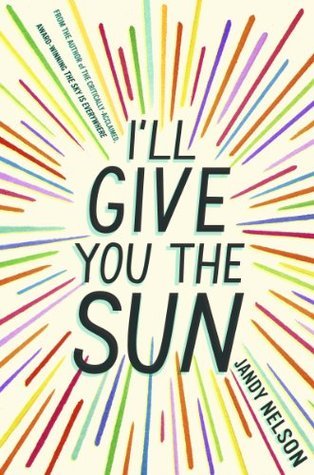 I'll Give You the Sun by Jandy Nelson
Series: Standalone
Published: September 11, 2014 by Dial
Genre: Young Adult, Contemporary, Realistic Fiction, LGBT
Find it: Goodreads | Amazon | Barnes & Noble | IndieBound
A brilliant, luminous story of first love, family, loss, and betrayal for fans of John Green, David Levithan, and Rainbow Rowell

Jude and her twin brother, Noah, are incredibly close. At thirteen, isolated Noah draws constantly and is falling in love with the charismatic boy next door, while daredevil Jude cliff-dives and wears red-red lipstick and does the talking for both of them. But three years later, Jude and Noah are barely speaking. Something has happened to wreck the twins in different and dramatic ways . . . until Jude meets a cocky, broken, beautiful boy, as well as someone else—an even more unpredictable new force in her life. The early years are Noah's story to tell. The later years are Jude's. What the twins don't realize is that they each have only half the story, and if they could just find their way back to one another, they'd have a chance to remake their world.

This radiant novel from the acclaimed, award-winning author of The Sky Is Everywhere will leave you breathless and teary and laughing—often all at once.
Discussion Questions
1) Did this novel pan out as you had expected? Are you a fan of the happily ever after or would you have preferred something different?

2) Now that you have finished I'll Give You the Sun, do you think it was work the hype?

3) Will you be reading more from Jandy Nelson?

4) While Noah and Jude are our main characters, we meet a nice variety of secondary characters? Out of this bunch, who is your favorite?

5) Did Jandy's narration decision (two story lines and two different times in these characters lives) add more to your reading experience or did it make it more difficult for you to get into the story?
Please leave your answers in the comment section below and don't forget to respond to other comments so we can have an amazing discussion! We'll be checking in and responding as well :)
Our Favorite Quotes
"Sometimes you know things, know things very deeply, only to realize you don't know a damn thing."
She gets up, walks over to me, puts her hand under my chin, and lifts my face so I'm forced into the earnest of her eyes. "Listen to me. It takes a lot of course to be true to yourself, true to your heart. You always have been very brave that way and I pray you always will be. It's your responsibility, Noah. Remember that."
So we grapple with the mysteries, each in our own way.
Never too late to join!
And remember, it's never to late to sign up for 2015 TBR Pile Reading Challenge. While sign-ups are now closed, you'll be able to sign up again when Debbie posts her March - April wrap up on April 25!

Also, check back tomorrow to vote for May's Read Along!