Read my review of The Winner's Crime and interview with Marie below, then pop back up here to click on the banner above and visit the other blogs to learn about Marie's writing habits, her favorite font . . . and some behind-the-scenes details in the life of Kestrel and Arin!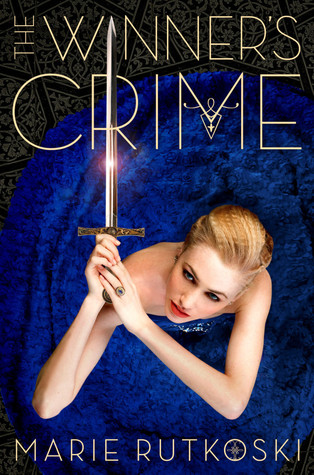 Series:
Genre:
Publication.Date:
March 3, 2015
Pages:
400 (ARC paperback)
Published By:
Farrar, Straus and Giroux
Website:
Marie Rutkoski


The Winner's Crime on Goodreads
My review copy:

Received from the author in exchange for an honest review



Where to get:

Book two of the dazzling Winner's Trilogy is a fight to the death as Kestrel risks betrayal of country for love.

The engagement of Lady Kestrel to Valoria's crown prince means one celebration after another. But to Kestrel it means living in a cage of her own making. As the wedding approaches, she aches to tell Arin the truth about her engagement…if she could only trust him. Yet can she even trust herself? For—unknown to Arin—Kestrel is becoming a skilled practitioner of deceit: an anonymous spy passing information to Herran, and close to uncovering a shocking secret.

As Arin enlists dangerous allies in the struggle to keep his country's freedom, he can't fight the suspicion that Kestrel knows more than she shows. In the end, it might not be a dagger in the dark that cuts him open, but the truth. And when that happens, Kestrel and Arin learn just how much their crimes will cost them.

(Goodreads)
Kestrel set the soldier back on the shelf. She made certain her voice was clear when she spoke her last words before leaving the room. "If you won't be my friend," she told Verex, "you'll regret being my enemy."
"Say what you want about me, about what happened between us, about the shape of the sun and the color of the grass and any other truths in this world you want to deny. Deny everything until the gods strike you down. But you can't say that I don't know you." He was now close enough that the air between them was alive against Krestel's skin. "I . . . have thought about you."
For a heartbeat, Kestrel thought that she'd imagined him. Then she realized that he was real. It shattered her. The icy shell around her shivered into a thought stinging pieces.
The beauty that is The Winner's Cruse held onto my long after I finished it. I immediately knew I was obsessed with the series and Marie became a favorite author. When I received The Winner's Crime in the mail, I started it right away. My first inking about this series was spot on - The Winner's Crime absolutely blew me away. I loved it so much more than The Winner's Curse - something I didn't even think possible.
After the events of The Winner's Curse, Kestrel is attempting to live her life and the prince's wife-to-be, while still harboring deep feelings for Arin. Unfortunately for her, the Emperor is not a stupid man and watches Kestrel rather closely. What Kestrel's new life comes down to is that she is playing a very dangerous game, while at the same time she is trapped and trying to survive. She is clever, but as Arin points out, sometimes she uncovers things she shouldn't and puts herself into unnecessary danger.
The scenes between these two are hot. If you're looking for an OTP, look no further that Kestrel and Arin. I've read a few books where my OTP can't seem to get it together - for one reason or another - and they have such amazing chemistry that it hurts my heart. Kestrel and Arin blow every other couple out of the water. These two need to be locked in a room until they sort their shit out.
One of my favorite additions to the story is Kestrel's husband-to-be, Verex. When we first meet him he appears to be have a weak constitution and someone not suited for our Kestrel. However, we soon learn that he is just as trapped by the Emperor as Kestrel if not more. Verex is on Kestrel's side and, while he is Arin, he's not a bad second choice. The Emperor himself is an amazing antagonist. I wouldn't necessarily call him a "villain," just power hungry, cunning, and demanding. He loves to be loved and those around him must love him the best.
Marie is an extremely talented writer and her books are beautifully and cleverly written. These plots are beyond engrossing and her ability to weave plots in and out of one another, while keeping our focus on the main plot is nothing short of magical.
And the way she ends her books? If your heart was ripped out from the ending of The Winner's Curse, prepare to have it stopped on when you finish The Winner's Crime. Marie knows how to write an ending and she knows how to make it hurt.
So if you're in the mood for some heart bounding romance, page turning plot, and an ending to end all endings, you need The Winner's Crime in your life. Simply put, it's a wonderful adventure full on intrigue, lies, treachery, romance, and jaw-dropping twists.
Side note: Book three, The Winner's Kiss, doesn't have a release date yet, let alone a synopsis. This is a cruel thing because I need it - and I need it now.
Interview

Welcome to Bookish, Marie!​ I'm so excited to have you here with us today! I cannot tell you how much I loved The Winner's Curse. You have created such an amazing world, not to mention amazing characters, a pretty bad ass heroine, and a romance I just want to put into a protective bubble so nothing with will come between them. That's a thing right?
Thank you! And I wish I had such a protective bubble.
If you could spend a day with one your characters, who would you choose, where would you go, and what would you talk about?
I'd have the most fun with Roshar from The Winner's Crime. On New Year's Eve in 2000, I was living in Prague, and went with friends to a club. At dawn, we walked all the way home, across the river and up the hills toward the castle. The colors were gorgeous: pink, yellow, apricot. Roshar would have done that with me. We would have had the best time. We'd talk about silly things in a serious way and serious things in a silly way.
What is the most awkward moment/question you have had since becoming an author?​
Ok. Total honesty here. I once googled "the winner's curse" and "fan art" because I wanted to see what was out there, and came across some racy fan fic written about Kestrel and Arin. As soon as I realized what I was looking at, I had to close the window. I don't mind that it's out there. I just couldn't read it.
What is it like seeing your book on Amazon, Barnes & Noble, Goodreads, etc?
Exciting. And educational. I'm always curious about what people take away from the books. And GIFs are fun. I enjoy looking at the one of that guy from Supernatural crying. That seems to crop up a lot in reviews of The Winner's Crime. I kind of love it. The tear just falls, and falls, and falls….
Which celebrity (writer, actor, whatever) would you be so excited to see that you would actually turn into a full blown fangirl? We're talking the screaming, crying, jumping up and down, and possibly passing out type of fangirl.
Toni Morrison. Alice Munro. JK Rowling. Katherine Paterson. Tana French. Sarah Waters.
I guess I only want to fangirl women. That seems about right.
If I could live in any TV/movie/book universe, which universe would it be?
Maybe Avatar: The Last Airbender and Legend of Korra. No, wait! I want to be in Miyazaki's Howl's Moving Castle, and I want to be Sophie. Please? Thanks for having me!
One winner will receive their choice of The Winner's Crime (paperback) or The Winner's Curse (hardcover) from the wonderful folks at Macmillan
US Only
Ends March 11, 2015
Cheaters Never Prosper
*Tweets for Contest Only Twitter Accounts Will Be Disqualified*
a Rafflecopter giveaway