I am thrilled to be a stop on the book tour for
The Storyspinner
by
Becky Wallace
hosted by Rockstar Book Tours! Today, I have an
author interview
for your reading pleasure, but be sure to check out the tour schedule below, or click the banner above, to read reviews and more!
Don't forget to enter the giveaway!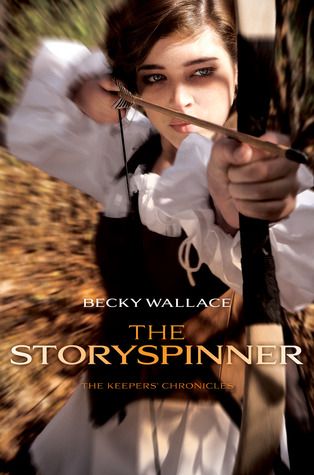 Title:
The Storyspinner
Author:
Becky Wallace
Series:
Standalone
Release Date:
March 3, 2015
Publisher:
Margaret K. McElderry
Genre:
Young Adult, Fantasy, Romance
Find it:
Goodreads
|
Amazon
|
Barnes & Noble
Drama and danger abound in this fantasy realm where dukes play a game for the throne, magical warriors race to find the missing heir, and romance blossoms where it is least expected.

In a world where dukes plot their way to the throne, a Performer's life can get tricky. And in Johanna Von Arlo's case, it can be fatal. Expelled from her troupe after her father's death, Johanna is forced to work for the handsome Lord Rafael DeSilva. Too bad they don't get along. But while Johanna's father's death was deemed an accident, the Keepers aren't so sure.

The Keepers, a race of people with magical abilities, are on a quest to find the princess—the same princess who is supposed to be dead and whose throne the dukes are fighting over. But they aren't the only ones looking for her. And in the wake of their search, murdered girls keep turning up—girls who look exactly like the princess, and exactly like Johanna.

With dukes, Keepers, and a killer all after the princess, Johanna finds herself caught up in political machinations for the throne, threats on her life, and an unexpected romance that could change everything.
Author Interview
Welcome to Bookish, Becky!
I'm so excited to have you here with us today
!
Me too!! Thanks so much for having me!
In tweet form (140 characters or less), how would you describe the story of The Storyspinner to those who haven't heard of it yet?
A case of mistaken identity exposes a young Performer to a danger she could never have imagined and a secret her father died to protect. (Woot! With four characters to spare!)
Tell us about Johanna, your heroine.
Johanna is a Performer, a trained singer, story teller, acrobat, and flaming-knife thrower. She wants to follow in her parents' footsteps and travel their country entertaining in all the major cities. When her father dies unexpectedly and her family is kicked out of their troupe, her dreams are dashed. She has to provide for her family, and is forced to take a job as a court performer for the arrogant and gorgeous Lord Rafael DeSilva.
They do not get along.
One of the things I love best about Johanna are her mama bear tendencies. You endanger her family, you meet her wrath!
I know this may be a tricky one, but what is your favorite (non-spoiler) scene from The Storyspinner?
Easy-peasy. I call it the Not-So-Charming Prince Scene (chapter 2), when Johanna meets Rafi (sigh) for the first time. Sparks—and fists—fly.
If you could spend a day with one your characters, who would you choose, where would you go, and what would you talk about?
Dom—Lord Rafi's younger brother. No question about that. He's so chill and has an awesome sense of humor. He also carries around pockets full of treats everywhere he goes. Who doesn't like the guy with goodies? We'd probably find a meadow, far away from anything work-related, and nap in the sunshine. He doesn't take anything seriously, and I need a little more of that in my life. ;)
What was the first thing you did when you learned you were going to be published?
Almost wrecked my car! True story. I was driving through a forest in northern Virginia when my agent called, but reception was bad and her voice kept cutting out. It sounded like, "Simon & Schuster…(garble, garble)…pre-empt..CALL ME BACK!" There might have been (totally was) some dangerous speed racing to get out of the trees.
If I could live in any TV/movie/book universe, it would be . . .
A world without reptiles! *shivers* Snakes, crocodiles, lizard-things…you find a habitable place without those creatures and I'm there!!
If I could tell the world just one thing, it'd be . . .
TREAT PEOPLE LIKE PEOPLE. Everyone has backstory. You don't know why that man is homeless or why that dude has skull tattoos on his eyelids. And it doesn't matter. They are human beings. They have value. They may live differently than you, but that doesn't make them less. *hops off soapbox*
The last book I bought was . . .
TUNNEL VISION by Susan Adrian. She's one of my fellow Fearless Fifteeners, and so far I'm really enjoying it!!
Thanks for being here, Becky! I really enjoyed the interview and cannot wait to read The Storyspinner and meet all these wonderful characters you talked about!
About the Author
In second grade, Becky Wallace had to sit in the corner because she refused to write anything except princess stories and fairy tales (and because she talked too much).




Her time in isolation gave her plenty of opportunities to dream up the fantasy worlds she's been dabbling with ever since. She was lucky enough to find her own real-life Prince Charming. They have four munchkins and live in happy little town near Houston, Texas.




Giveaway
US/Canada Only
Cheaters Never Prosper
Tour Schedule
2/27/2015- Bookish- Interview
---