Some of you may know that I originally had my own blog, Beauty but a Funny Girl, prior to joining Bookish (now Bookish Lifestyle). I was thinking the other day about all those reviews I left behind when I transferred and thought they should get some love too - no matter how badly written and newbie they come off! So I present to you: Throwback Thursday Reviews! Every once in a while I'll post an old review from Beauty but a Funny Girl, unedited in terms of content, with the exception of any spelling or grammatical mistakes. It's definitely going to be fun and interesting to see how my tastes and writing style have changed over the years!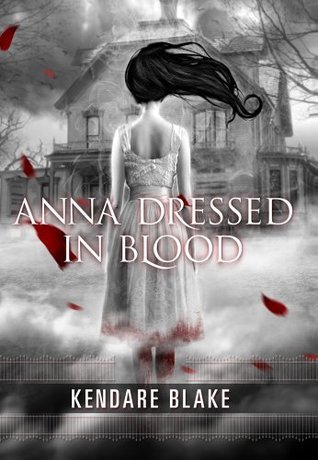 Series:
Genre:

Young Adult, Ghosts, Horror, Paranormal

Publication.Date:
September 27, 2012
Pages:
503 (hardcover)
Published By:
Little, Brown and Company
Website:
Kendare Blake


Anna Dressed in Blood on Goodreads
My review copy:

Borrowed from the library



Where to get:

Cas Lowood has inherited an unusual vocation: He kills the dead.

So did his father before him, until he was gruesomely murdered by a ghost he sought to kill. Now, armed with his father's mysterious and deadly athame, Cas travels the country with his kitchen-witch mother and their spirit-sniffing cat. They follow legends and local lore, destroy the murderous dead, and keep pesky things like the future and friends at bay.

Searching for a ghost the locals call Anna Dressed in Blood, Cas expects the usual: track, hunt, kill. What he finds instead is a girl entangled in curses and rage, a ghost like he's never faced before. She still wears the dress she wore on the day of her brutal murder in 1958: once white, now stained red and dripping with blood. Since her death, Anna has killed any and every person who has dared to step into the deserted Victorian she used to call home.

Yet she spares Cas's life.

(Goodreads)
Creepy. Not scary. Creepy.
There were nights I laid awake. Cas said it best at one point: "I woke up and there was nothing there, but I knew if I reached under my bed something would grab me and drag me to hell."
Thesis Cassio (Cas) is a ghost hunter. Not the TV kind, the kind that actually kills ghosts. He inherited his athame from his father - a ghost killer who was killed by a ghost. (Not a spoiler folks, we learn this in the first chapter.)
Speaking of first chapter, boy you get pulled into the story right away!
Anyway, Cas gets a tip about a ghost up in Canada called Anna Dressed in Blood (get it?). Cas makes new friends in town - something he hasn't done before as he and his mother are always moving - and they "team up" to help Cas kill Anna. But of course, this being a novel, it's not as cut and dry as Cas's previously kills.
I loved the cast of characters - especially Anna. Very sassy ghost. I liked the evolution of Carmel. She's not at all who she appears to be when we first meet her and Thomas is a lot of fun, too. He evolved just as well as Carmel, in my opinion anyway.
Overall, Anna was very well written. It took me a bit to read it because I couldn't read it right before bed. My mind would just race and "they" (whoever "they" were) were always out to get me once the lights were out.
Definitely worth a read. Just not at night and not by yourself. Unless you don't enjoy a peaceful nights rest that is.