Hi guys! Thanks for joining our
2015 TBR Pile Reading Challenge
! As you know, every other month we'll be hosting TBR Pile Read-a-Longs to help you (and us!) tackle our TBR Piles :)
Two weeks ago we posted a voting poll and asked you to
vote on the book you'd like to read
together with us in June! And the winner is . . . *drum roll*
Dorothy Must Die by Danielle Paige!
About the Book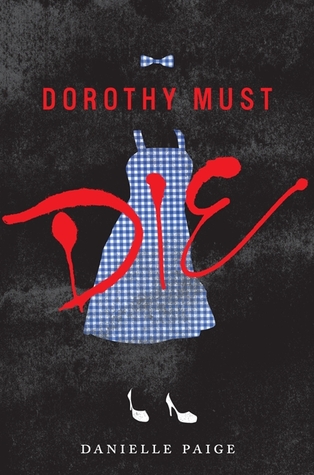 Dorothy Must Die by Danielle Paige
Series:
Dorothy Must Die #1
Published:
April 1, 2014 by HarperCollins
Genre:
Young Adult, Retelling, Fantasy
Find it:
Goodreads
|
Amazon
|
Barnes & Noble
|
IndieBound
I didn't ask for any of this. I didn't ask to be some kind of hero.

But when your whole life gets swept up by a tornado - taking you with it - you have no choice but to go along, you know?

Sure, I've read the books. I've seen the movies. I know the song about the rainbow and the happy little bluebirds. But I never expected Oz to look like this. To be a place where Good Witches can't be trusted, Wicked Witches may just be the good guys, and winged monkeys can be executed for acts of rebellion. There's still a yellow brick road - but even that's crumbling.

What happened? Dorothy.

They say she found a way to come back to Oz. They say she seized power and the power went to her head. And now no one is safe.

My name is Amy Gumm - and I'm the other girl from Kansas.

I've been recruited by the Revolutionary Order of the Wicked.

I've been trained to fight.

And I have a mission.
Read-A-Long Schedule:
There will be two discussion posts. For each discussion we'll be talking about favorite quotes, characters, and scenes!
11/15: Chapters 1-24
11/30: Chapters 24-44
Let's have lots of fun tacking our TBR Piles together and then discussing the books we've read over a cup of delicious tea/coffee :) Don't forget to tell us if you'll be joining or not - be sure to check your local library if you don't have a copy and still want to join!
Never Too Late To Join!
And remember, it's never to late to sign up for
2015 TBR Pile Reading Challenge
and/or join our monthly Read Along, so spread the word and invite your friends to join the fun!