I am thrilled to be a stop on the book tour for Persuasion by Martina A. Boon! Today, I have an interview for your reading pleasure, but be sure to check out the additional stops below for more!
Don't forget to enter the giveaway!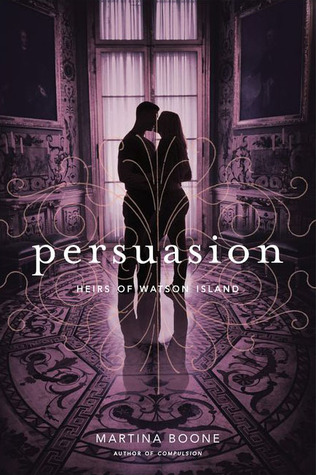 Title:
Persuasion
Author:
Martina Boone
Series:
The Heirs of Watson Island #2
Release Date:
October 27, 2015
Publisher:
Simon Pulse
Genre:
Young Adult, Romance, Magic, Paranormal
Find it:
Goodreads
|
Amazon
|
Barnes & Noble
|
IndieBound
Beautiful Creatures meets Gone With the Wind

When reporters chasing rumors of a stolen shipment of Civil War gold descend on Watson Island, Barrie Watson discovers more than treasure is buried at the neighboring plantation. A stranger filled with magic arrives claiming that the key to the gifts the Watson and Beaufort have held for centuries, as well as the curse that has plagued the Colesworth family, lies beneath the mansion. But spells go awry and misunderstandings flare, escalating danger that's been brewing below the surface. To repair the damage, Barrie and Eight Beaufort must repair the rift between feuding families and unravel mysteries that go back far beyond the Civil War. At the same time, they must make sense of their growing and forbidden feelings for each other.

In a tale that is part mystery, part magical adventure, and part forbidden romance, Persuasion explores the nature of threats, promises, and consent, and the way in which history is changed according to who tells the story.
Interview with Martina A. Boone

Welcome to Bookish Lifestyle, Martina!​​ I'm so excited to have you here with us today! ​In tweet form (140 characters or less), how would you describe The Heirs of Watson Island to those who haven't heard of it yet?

I'm excited to be here! Thank you so much for having me and for giving me such great questions. Hmmh. This is a tough one. How about:

A teen faces mysteries on 3 Southern plantations haunted by forbidden love, an ancient spirit & magical gifts that have became compulsions.

Was Persuasion easier or harder to write than Compulsion?

Much harder! I had originally planned it as a companion novel, telling the same story but from the perspective of Cassie Colesworth. Doing the Colesworth story justice while also continuing Barrie's story and staying in Barrie's perspective was difficult, but also ultimately deeply rewarding. I loved getting to spend more time with her and Eight and evolving their romance, and I loved getting to learn more about Aunt Pru, Seven, and Mary. Obadiah, the magician who arrives at Watson's Landing with dubious intentions, is one of the most interesting and difficult characters I've ever gotten to write. I absolutely love him.

What have been the most surprising things about writing this series? (the amount of research or the research in general, keeping the crazy intertwined family trees / relationships straight, etc.)

The research is crazy. There's a lot more revealed in Persuasion than in Compulsion, but even that is just the tip of the iceberg. I think I probably spent a couple hours of research for every page of this trilogy, and I've had to work really, really hard not to let that show. It's fascinating how intricate some of the connections are between history and folklore when you dig for them, so the learning guides that reveal some of the stories behind the stories are insanely long.

The family trees are definitely complicated, but really for a small town, they're not too far out of the realm of truth. I know this from my own experience. I wanted to give my father-in-law a project to do when he was first getting ill and had to give up work. He was mostly confined to the house, so I started him researching his family genealogy. That meant I got to dig into the Boone family tree, and reading through wills, deeds, tax assessments, property conveyances, land grants, etc., it's completely crazy how interconnected old families can get when they've been together in a small area for hundreds of years.

Overall, I think the most surprising thing about writing the trilogy turned out to be how everything connected on multiple levels and what those connections meant. There's some astonishing science that I dug up that weaves together the history and the magic and makes for a bit of a twist that you'll discover in Illusion, book three. The main mystery—the story of the Fire Carrier and the gifts and curse—ties right back to that.

What is something you want readers to know about Persuasion? What can we except from book two?

The series is often described as a paranormal romance, but it isn't. It's a romantic Southern Gothic, which is a mixture of a contemporary coming of age drama and a suspense story/mystery with supernatural elements. Most people think of William Faulkner or Nathaniel Hawthorne when they hear the term Southern Gothic, but I wrote the series to be more accessible than that, so more like ROMEO AND JULIET meets THE RAVEN BOYS.

Persuasion has more magic, and different types of magic, than Compulsion, and it explores the romance with Eight more deeply. It's also a bit darker. It deals with some terrible things both in the past and in the present. Barrie is under pressure to break the Colesworth curse, yet there are reasons why she's reluctant to get involved in that. For obvious reasons, she wary of her cousin Cassie by this point. At the same time, she's having to navigate what she wants/needs compared to what Eight wants/needs. The temptation is to choose her growing romance with Eight, but she is strong enough not to throw away the duties of the magical binding she has with Watson's Landing. That's an important point. Too often, girls and women are still pressured to feel as though their needs, goals, and self-respect are somehow less important.

​Who would attend your perfect literary dinner party (can be anyone - living or dead)?​​

Laini Taylor, Laurie Halse Anderson, Jandy Nelson, Maggie Stiefvater, J.K. Rowling, Baroness Emma Orczy, Harper Lee, Jane Austen, and Ursula K. LeGuin.

Lastly, as a reader and lover of Compulsion I have to know . . . how do you make Eight so swoon worthy?!

LOL! I'm sending you a delighted hug for that! Honestly, I haven't a clue. I just write him as he is. Basically, I started writing him in Compulsion to be the right guy for Barrie, but he took on a life of his own and I honestly feel so much for him. Hopefully, that's what comes across. He's a great guy, strong and sexy but also kind and considerate. What can I say? I have good taste in men (just ask my husband!).
I'm addicted to . . .
Nutella and chocolate-flavored tea.
The last book I read was . . .
Sassafrass, Cypress & Indigo
by Ntozake Shange, which is beautiful. I'm just starting
Blood and Salt
by Kim Liggett though and absolutely LOVING it.
You can find the recipe for Blue Cheese Coleslaw and Sweet Potato Mustard at . . .
My street team started a Pinterest board for all the Watson Island recipes and I've added some additional favorites. You can find it here:
https://www.pinterest.com/arnoldjaime13/heirs-of-watson-island-recipes/
Compulsion
Title:
Compulsion
Author:
Martina Boone
Series:
The Heirs of Watson Island #1
Release Date:
October 28, 2014
Publisher:
Simon Pulse
Genre:
Young Adult, Romance, Magic, Paranormal
Find it:
Goodreads
|
Amazon
|
Barnes & Noble
|
IndieBound
My Review:
Posted February 1, 2015
Three plantations. Two wishes. One ancient curse.

Three hundred years ago, an ancient spirit cursed one of the founding families of Watson Island and gave the other two magical gifts that became compulsions. Arriving for the first time at her aunt's plantation home, Barrie Watson must uncover the mystery of why her mother ran away when she was Barrie's age, what has kept Barrie's aunt locked on the plantation in isolation ever since, and the truth behind a generations-old feud that haunts the founding families. With the help of Eight Beaufort, who seems to know what she wants before she knows herself, the last Watson heir starts to unravel her family's twisted secrets. What she finds is dangerous: a love she never expected, a river that turns to fire at midnight, a cousin who isn't what she seems, and very real enemies who want both Eight and Barrie dead. Wrapped in mystery, steeped in atmosphere, and haunted by questions of what it means to be a family, Compulsion is a coming of age story that transcends age and genre.
About the Author
Martina Boone is the founder of

AdventuresInYAPublishing.com

, a Writer's Di-gest 101 Best Websites for Writers site, and

YASeriesInsiders.com

, a Tumblr site devoted to news, giveaways, and insider secrets of much-loved and up-and-coming YA series.

From her home in Virginia, where she lives with her husband and children, she enjoys writing books that are a mixture of romance, mystery, history, and contemporary fantasy set in the kinds of magical places she'd love to visit. When she isn't writing, she's addicted to travel, horses, skiing, chocolate fla-vored tea, and anything with Nutella on it.



Giveaways
a Rafflecopter giveaway
You are automatically entered into the grand prize when you enter the giveaway on Bookish Lifestyle!
Additional Stops