Hi guys! Welcome to the 1st discussion for our May Read Along: Great by Sara Benincasa! Huge thank you to everyone who joined us and read chapters 1-7 on time to meet up with us and discuss them (or rather swoon over them) together!


About the Book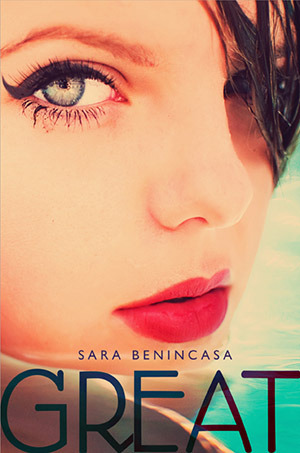 Great by Sara Benincasa
Series: Standalone
Published: April 8, 2014 by HarperTeen
Genre: Young Adult, Contemporary, Realistic Fiction, LGBT, Retelling
Find it:
Goodreads
|
Amazon
|
Barnes & Noble
|
IndieBound
In Sara Benincasa's contemporary retelling of The Great Gatsby, a teenage girl becomes entangled in the drama of a Hamptons social circle, only to be implicated in a tragedy that shakes the summer community.

Everyone loves a good scandal.

Naomi Rye usually dreads spending the summer with her socialite mother in East Hampton. This year is no different. She sticks out like a sore thumb among the teenagers who have been summering (a verb only the very rich use) together for years. But Naomi finds herself captivated by her mysterious next-door neighbor, Jacinta. Jacinta has her own reason for drawing close to Naomi-to meet the beautiful and untouchable Delilah Fairweather. But Jacinta's carefully constructed world is hiding something huge, a secret that could undo everything. And Naomi must decide how far she is willing to be pulled into this web of lies and deception before she is unable to escape.

Based on a beloved classic and steeped in Sara Benincasa's darkly comic voice, Great has all the drama, glitz, and romance with a terrific modern (and scandalous) twist to enthrall readers.
Discussion Questions
1) Have you read The Great Gatsby? Did you enjoy it or did you only read it because it was required at your high school?

2) What do you think of The Great Gatsby's modern day counterparts? If you haven't read The Great Gatsby, what do you think about the tangled web of relationships between these characters?

3) What do you think about the relationships between Namoi and her parents?

4) Thus far, who is your favorite character and who needs a chainsaw to the face?

5)
Please leave your answers in the comment section below
and don't forget to respond to other comments so we can have an amazing discussion! We'll be checking in and responding as well :)
However, please only reference things that happen in the first half of the book.
You may make guesses or speculations as to what happens in the second half (or, if you've already read ahead, what you thought would happen when you finished these chapters), but
do not spoil it for those who may have not yet finished the book
.
Our Favorite Quotes
My dad didn't take it so hard because, as he told me the day Mom left, "She's not the person I married, anyway. I don't even know who she is." Since he's a good guy, he added, "She does love you, you know. And you love her, too." But she never stops buzzing around long enough for me to get a good look at who she really is, so I can't decide if I love her or just feel like I ought to. She imprisons me in East Hampton each summer, because the court says she can and because I don't have any real reason to refuse, except that I really, really don't like her.
"She's not a hooker. She's just - she's a nice girl who happens to me come a very stupid wold. And I kind of feel bad for her about the cheating thing - Jef said everybody in town knows.

"You've always been a Delilah Fairweather apologist. Every summer you call me up and tell me the dumb stuff she does and says, and every summer I'm like, "This girl sounds like an empty shell of a human being,' and you're like, "No she's nice, its the other kids who suck.' Someone has a girl crush.
This summer was getting do by the day. Since when did I happily and comfortably swill champagne with the sons and daughters of America's finest families? I started to analyze the previous evening the way I always do the morning after a party, but I stopped after a few seconds. Maybe it was my hangover. Or maybe it was something else - a conviction that I was going to do things differently this summer. Maybe I didn't need to overthink everything.
Never too late to join!
The second discussion post for the second half will be posted on
May 30
, followed by the vote for July's read on on
May 31
! Also, don't forget that everyone who takes part in our May TBR Pile Read Along is going to get
5 extra entries into our giveaway for the TBR Pile Reading Challenge
!
And remember, it's never to late to sign up for 2015 TBR Pile Reading Challenge, don't miss your chance to sign up on
Debbie's wrap-up post for March and April
. You can also link up your reviews from your own TBR Pile reviews and win a book of your choice!