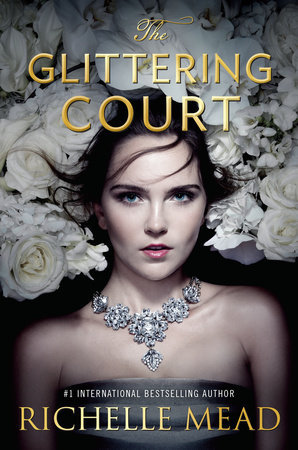 Richelle Mead's The Glittering Court is a wonderful story of women coming from nothing (or almost nothing) and given the chance to become something / someone.
For a select group of girls, the Glittering Court offers a shot at a life they've only ever dreamed of, one of luxury, glamour, and leisure. To high-born Adelaide, whose wealthy family is forcing her into a loveless marriage, the Glittering Court represents something else: the chance to chart her own destiny, and adventure in an unspoiled, prosperous new land across the sea.




After a chance meeting with the dazzling Cedric Thorn, Adelaide poses as a servant to join the crop of impoverished girls he promises to transform into proper ladies. But her familiarity with upper class life comes with a price: she must hide her identity from her new friends, mysterious refugee Mira and fiery former laundress Tamsin, and most importantly, from Cedric himself—even though she's falling in love with him.




Everything begins to crumble when Cedric discovers Adelaide's ruse, and she catches the eye of a powerful young governor, who wants her for a wife. She didn't leave the gilded cage of her old life behind just to become someone else's property. But nothing is as daunting—or as wonderful—as the potent, forbidden attraction simmering between Adelaide and Cedric. One that, if acted on, would make them both outcasts in a wild, dangerous, uncharted world, and possibly lead them to their deaths.



After taking the courses at the designated manor (there are three), the girls are sort into classes based on their final test scores. One year it was flowers, this year it's gem stones. Now, while diamond is the prettiest, highest, and most sought after I have no delusions that I would be The Diamond. Never mind I'm not coordinated enough to walk and chew gum at the same time, let alone perfectly perform all those fancy dances they need to learn.
americangemsociety.org
I'm going to assume my gemstone would fit somewhere in the middle. Not horrible, not great. And what gemstone would I get? Peridot, of course! Why Peridot? Because that's my birthstone, that's why.
When I was growing up I hated my birthstone. I thought it was an ugly shade a green. I would have preferred to have been born in any other month than August with it's pukey, pea green gemstone. However, when I got older, I appreciated it a bit more and came to love it. I'll admit that it's still not the prettiest color, but it's mine and that's that.
I would not be the sole-Peridot, of course not. I would have my five (soon to be) best friends at my side:
Eliza Hamilton from Hamilton (and real life).
Elisa endured a lot in her life. A revolution, loving husband, cheating husband, son and husband dying in a duel (this isn't spoilers, this is history people - deal), but she still was able to keep it all together to fight slavery, raise funds, build the first publish orphanage. Girl had guts and brains.
Hermione Granger from Harry Potter and the Deathly Hallows.
Hermione is always a great character, but my favorite incarnation of her is from
Harry Potter and the Deathly Hallows
. This Hermione is stronger and smarter than she (or we) could have imagined. She helps defeat Voldemort, takes punches like a champ, and doesn't let anything deter her. This is definitely a girl I need in my class.
Feyre from A Court of Thorns and Roses.
Seriously a bad ass. Feyre keeps her family alive and isn't afraid to take the punishment when Tamlin comes in retribution for her killing a Fae. She adapts to her new life and when it comes time to stand taller than she ever has and put up with more than she thought she could handle, she comes out on top. (Plus it doesn't hurt that Rhys would probably be lurking about.)
Éponine Thénardier from Les Miserables.
Éponine is my girl. She's quick, clever, knows her way around, and loves with her whole heart. Not to mention she has a sarcastic attitude that would endear her to me for all time.
Scarlet from Scarlet.
I'm not sure if Scarlet and Éponine would be mortal enemies or best friends, but I'm thinking having the two of them together would make for some good times.
If you got a chance to create your own Glittering Court, what gemstone would you be? And who would be in your class with you?