Hi guys! Welcome to the 1st discussion for our July Read Along: Dorothy Must Die by Danielle Paige! Huge thank you to everyone who joined us and read chapters 1-24 on time to meet up with us and discuss them together!


About the Book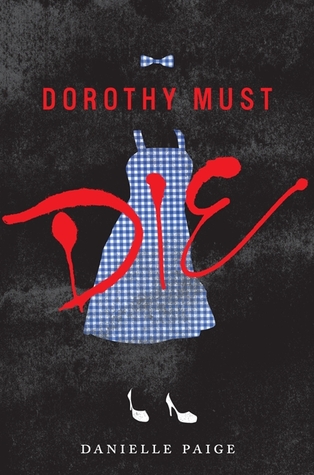 Dorothy Must Die by Danielle Paige
Series:
Dorothy Must Die #1
Published:
April 1, 2014 by HarperCollins
Genre:
Young Adult, Retelling, Fantasy
Find it:
Goodreads
|
Amazon
|
Barnes & Noble
|
IndieBound
I didn't ask for any of this. I didn't ask to be some kind of hero.

But when your whole life gets swept up by a tornado - taking you with it - you have no choice but to go along, you know?

Sure, I've read the books. I've seen the movies. I know the song about the rainbow and the happy little bluebirds. But I never expected Oz to look like this. To be a place where Good Witches can't be trusted, Wicked Witches may just be the good guys, and winged monkeys can be executed for acts of rebellion. There's still a yellow brick road - but even that's crumbling.

What happened? Dorothy.

They say she found a way to come back to Oz. They say she seized power and the power went to her head. And now no one is safe.

My name is Amy Gumm - and I'm the other girl from Kansas.

I've been recruited by the Revolutionary Order of the Wicked.

I've been trained to fight.

And I have a mission.
Discussion Questions
1) If you could travel to any "fictional" world, which one? Why?

2) Who has been your favorite villain thus far?

3) And what the hell happened to Dorothy?!

4) Since Danielle is basing her Oz off of the books (i.e. in the book Glinda is the Good Witch of the South, while in the movie it's the North), are some of you finding yourself a bit lost? Or just going with the flow?

5) What's your favorite parallel between Amy's story and Dorothy's?
Please leave your answers in the comment section below
and don't forget to respond to other comments so we can have an amazing discussion! We'll be checking in and responding as well :)
However, please only reference things that happen in chapters 1-24.
You may make guesses or speculations as to what happens in the second half (or, if you've already read ahead, what you thought would happen when you finished these chapters), but
do not spoil it for those who may have not yet finished the book
.
Our Favorite Quotes
I didn't know what was worse: to have your shot and screw it up, or to never have had a shot in the first place.
"Be brave," he said. "Be angry. Don't trust anyone. I'll see you soon."
"Smell us?" I asked, genuinely confused. "What is she, a hunting dog? Besides, isn't she supposed to be a good witch?"

"Sure," Indigo snorted. "Good. Like that means anything around here. I hate to break it to you, but just because someone has pretty hair and good skin tone and a crown instead of a pointy hat doesn't mean she's not the baddest bitch this side of the Emerald City. Seriously. I can't believe I'm risking my own neck to help you out."
"I'm not Glinda. I'm Glamora, her twin sister. She's the Good witch; I'm the Wicked one. Of course, she's also the one who's turned Oz into the hellhole it is now, so it's really all relative."
"It's a Magril—a bird that's native to Gillikin Country. It spends half its life as a beetle, and when it's an adult, it goes to sleep for a year and wakes up as this majestic creature."

"Kind of like a butterfly."

"Kind of like you," he said. I didn't have an answer to that.
Never too late to join!
The second discussion post for the second half will be posted on November 30, followed by the vote for January's read along! Also, don't forget that everyone who takes part in our November TBR Pile Read Along is going to get 5 extra entries into our giveaway for the TBR Pile Reading Challenge!