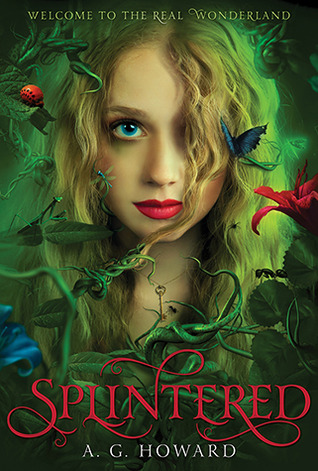 Series:
Genre:

Young Adult, Retelling, Romance, Paranormal, Fantasy

Publication.Date:
January 1, 2013
Pages:
371 (hardcover)
Published By:
Amulet Books
Website:
A.G. Howard


Splintered on Goodreads
My review copy:

Gifted



Where to get:

This stunning debut captures the grotesque madness of a mystical under-land, as well as a girl's pangs of first love and independence.

Alyssa Gardner hears the whispers of bugs and flowers—precisely the affliction that landed her mother in a mental hospital years before. This family curse stretches back to her ancestor Alice Liddell, the real-life inspiration for Lewis Carroll's Alice's Adventures in Wonderland. Alyssa might be crazy, but she manages to keep it together. For now.

When her mother's mental health takes a turn for the worse, Alyssa learns that what she thought was fiction is based in terrifying reality. The real Wonderland is a place far darker and more twisted than Lewis Carroll ever let on. There, Alyssa must pass a series of tests, including draining an ocean of Alice's tears, waking the slumbering tea party, and subduing a vicious bandersnatch, to fix Alice's mistakes and save her family. She must also decide whom to trust: Jeb, her gorgeous best friend and secret crush, or the sexy but suspicious Morpheus, her guide through Wonderland, who may have dark motives of his own.

(Goodreads)


At first glance, our intruder looks like a walrus. He has two giant tusks with images of snakes and angry flames carved long the ivory. But beneath rolls of blubber, his lower half is a tangle of slithering octopus tentacles, covered in suction cups. It's as if someone snapped two different creatures together, creating an octo-walrus. He must weigh over five hundred pounds, and his body occupies most of the boat.
I shake my head, my eyes clamped tightly. "We're too high . . . it makes my stomach kick."


He laughs and inhales a puff off the hookah then blows the smoke over me, saturating me in the comforting scent. "That's how you know you're alive, Alyssa. The kicks."
Any creatures capable of flight follow with mallets in hand, floating over everyone else. The grounded ones scuttle to the tabletop or rush along the floor, tumbling over dishes and chairs in hopes someone will knock the main course down to their level.


I cover my mouth to keep from screaming or laughing hysterically. It could go either way at this point. I'm beginning to enjoy the madness.
When I was little Disney's Alice and Wonderland used to terrify me. Not because I thought the movie itself was terrifying, but because I didn't want to imagine myself in Alice's position: stuck in an unknown world and unable to get home. Fast forward some years and I know now Alice's story was all in her head and it was just a dream. Or was it?
The interesting thing about Splintered is that A.G. isn't so much retelling the story, but writing a sequel. While people look at Alice in Wonderland as a fantastical story, Alyssa soon finds out that Wonderland is a real place and Alice really did fall down the rabbit hole. A.G. treats the story as sort of stepping stone to Alyssa's story.
Alyssa Gardner is a direct discontent of Alice Liddell and the women in her family have been cursed ever Alice's Wonderland visit. They can hear bugs, plants, and is for some reason or another end up going crazy. Alyssa's mother is in a mental health facility and a relative of Alyssa's even threw herself out of a hospital window to "test her wings." Alyssa started to hear bugs herself when she was thirteen, a fact she keeps from those she loves in fear of turning out like her mother.
I enjoyed the first part of Splintered, but it's when Alyssa and Jeb (an unwilling participant in Alyssa's journey), find themselves in Wonderland things really start to pick up. A.G. takes the well known aspects from Alice in Wonderland and kind of flips them over. For instance, the White Rabbit is actually name Rabid White. It's these little touches that allow A.G. to make a well known story her own.
I liked Alyssa, but my only real issue with her was feelings for Jeb. Jeb, her best friend / neighbor / crush, is dating Taelor, a girl who has bullied and mocked Alyssa her whole life. I didn't understand that at all. "Hey, you're my best friend, but I'm going to date your bully since grade school. Cool? Cool." He was controlling and overbearing. She's clearly capable of handling things on her own and his protectiveness wasn't cute.
Morpheus however . . . hi! He's a fabulous anti-hero with his secrets and manipulation. He's Alyssa's inside source to all things Wonderland and curing her family on the curse - which will more importantly save her mother and allow her to come home. We learn a many thing about Morpheus as the story goes on and the more we learn, the more I like him.
A.G.'s writing is absolutely spot on and perfect. She is able to concoct this world and truly bring her readers into it. Her words are beautiful and lyrical, bringing her dark and twisted Wonderland to life. The plot is full of twists and turns that keep those pages flipping because as Alice once said:
"If I had a world of my own, everything would be nonsense. Nothing would be what it is, because everything would be what it isn't. And contrary wise, what is, it wouldn't be. And what it wouldn't be, it would. You see?"
I ordered Unhinged and Ensnared the minute I finished Splintered and I cannot wait to delve back into Wonderland to experience the magic that is A.G. Howard.