I am thrilled to be a stop on the book tour for
Ash & Bramble
by Sarah Prineas! Today, I have an
interview
for your reading pleasure, but be sure to check out the additional stops below, or click on the tour banner above, for more!
Don't forget to enter the giveaway!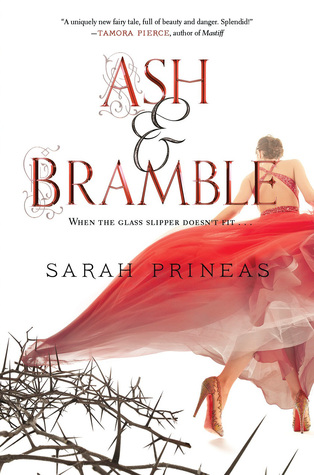 Title:
Ash & Bramble
Author:
Sarah Prineas
Series:
Standalone
Release Date:
September 15, 2015
Publisher:
HarperTeen
Genre:
Young Adult, Retelling, Fairytale, Magic
Find it:
Goodreads
|
Amazon
|
Barnes & Noble
|
iBooks
When the glass slipper just doesn't fit…

The tale of Cinderella has been retold countless times. But what you know is not the true story.

Pin has no recollection of who she is or how she got to the Godmother's fortress. She only knows that she is a Seamstress, working day in and out to make ball gowns fit for fairy tales. But she longs to forsake her backbreaking servitude and dares to escape with the brave young Shoemaker.

Pin isn't free for long before she's captured again and forced to live the new life the Godmother chooses for her—a fairy tale story, complete with a charming prince—instead of finding her own happily ever after.

Sarah Prineas's bold fairy tale retelling is a dark and captivating world where swords are more fitting than slippers, young shoemakers are just as striking as princes, and a heroine is more than ready to rescue herself before the clock strikes midnight.
Interview with Sarah Prineas
Welcome to Bookish, Sarah! I'm so excited to have you here with us today!
Thanks for hosting me!!
What was the inspiration for writing Ash & Bramble? Why did you choose to do a Cinderella retelling?
Two big questions led me to write Ash & Bramble. One, in fairytales there's all this stuff: glass slippers, poisoned apples, sharpened spindles, and of course, the glittering, gorgeous ball gowns. But I wondered: where does all that stuff come from? The answer, of course, was the Godmother: she has enslaved the finest seamstresses and craftsmen to make things for her powerful stories.
The second question was: What if you got trapped inside a fairytale—like Cinderella—and it turned out you didn't like Prince Charming very much, or the story's plans for you? What would you do to get out of it?
I'm in the middle of reading Ash & Bramble at the moment and while at the Godmother's "work shop," you make a lot of allusions to various fairy tales. Was there a reason you alluded to certain ones and not others? Or was it just something fun to add to your story?
Great question! I added allusions to quite a few fairytales—there are some more mentioned toward the end—because I wanted to make it clear that Cinderella might be the most powerful story, but there are others, too.
What were your favorite fairy tales growing up?
I don't know if this counts as a fairytale, but I loved the pathos of The Little Match Girl.
What is the hardest line to write - the first or the last?
For me, those are the easiest lines to write! It's the climactic moments of the novel that are hardest for me—trying to bring everything together at the same time.
If you had to start over (don't cry!), is there anything you would do differently?
:D I'm a very fickle writer—I love my books for a while, and then I hardly pay them any attention because I'm working on something else. Ash & Bramble and I are still in our honeymoon phase, so I wouldn't change anything. Ask me next year, though, and you might get a different answer.
About the Author
Hi there! I'm Sarah Prineas, author of the Magic Thief series published in the US by HarperCollins and in 17 other languages around the world, and the Winterling trilogy. I live in rural Iowa with my mad scientist husband, two kids, and two cats. My next book is called

Ash & Bramble

, and it's a YA. Here's my website:

http://www.sarah-prineas.com

and here's my book website (with games, wallpaper, and extras!):

http://www.magicthief.com

Thanks for reading!
Giveaway