I am thrilled to be a stop on the book tour for Frost Like Night by Sara Raasch, hosted by Rockstar Book Tours! I have a review for your reading pleasure, but be sure to check out the tour schedule below, or click the banner above, for more!
Don't forget to enter the giveaway!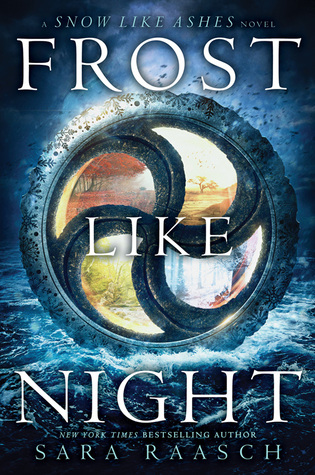 Series:
Genre:
Publication.Date:
September 20, 2016
Pages:
496 (ARC)
Published By:
Balzer + Bray
Website:
Sara Raasch


Frost Like Night on Goodreads
My review copy:

Received in exchange for an honest review



Where to get:




Angra is alive, his Decay is spreading—and no one is safe.

Meira will do anything to save her world. With Angra trying to break through her mental defenses, she desperately needs to learn to control her own magic—so when the leader of a mysterious Order from Paisly offers to teach her, she jumps at the chance. But the true solution to stopping the Decay lies in a labyrinth deep beneath the Season Kingdoms. To defeat Angra, Meira will have to enter the labyrinth, destroy the very magic she's learning to control—and make the biggest sacrifice of all.

Mather will do anything to save his queen. He needs to rally the Children of the Thaw, find Meira—and finally tell her how he really feels. But with a plan of attack that leaves no kingdom unscathed and a major betrayal within their ranks, winning the war—and protecting Meira—slips farther and farther out of reach.

Ceridwen will do anything to save her people. Angra had her brother killed, stole her kingdom, and made her a prisoner. But when she's freed by an unexpected ally who reveals a shocking truth behind Summer's slave trade, Ceridwen must take action to save her true love and her kingdom, even if it costs her what little she has left.

As Angra unleashes the Decay on the world, Meira, Mather, and Ceridwen must bring the kingdoms of Primoria together…or lose everything.

(Goodreads)
2016 has been the year of series ending - at least for me - and next on my list was
Frost Like Night
by Sara Raasch. Most of the time, I drag my feet when it comes to a series ender (see my yet untouched copy of
The Beauty of Darkness by Mary E. Pearson
), but thankfully Rockstar Book Tours was here to kick my butt into high gear.
Not that I needed much prodding once
Frost Like Night
arrived at my house and I began reading it because Sara's delivers an amazing conclusion to her Snow Like Ashes series. Everything is coming to a head - Angra's growing hold over all of Primoria, Meira's desire to stop him (and not die) while attempting to unite those in Primoria not under his Decay, Ceridwen's determination to save her people and reclaim Summer, and Mather's love and need to protect Meira from all things.
Sara packs so much into
Frost Like Night
, but keeps everything cohesive, clear, and worthy of non-stop page turning. The only time I stumbled was in the beginning. She picks up right where
Ice Like Fire
left off and it took me a few chapters to remember what happened. I knew the big things, yes, but some of the smaller details had been lost to time. Once the ball got rolling though, it kept rolling.
The narrative of
Frost Like Night
is a mixture of chapters from Meira's, Mather's, and Ceridwen's points of view. I love that we get to see this final installment from all three perspectives because it really allows us to immerse ourselves in the story, especially when the three get separated for various reasons, and connect with all characters, not just our narrators. It also allows us to see how much these individuals have progressed since we first met them (Mather and Meira in
Snow Like Ashes
and Ceridwen in
Ice Like Fire
).
Meira, in my perspective, goes through the biggest transformation. She starts the series as wanting to do/know more but being slightly meek and mild. Afraid to challenge Sir and stir the pot, so to speak. She ends this series strong, determined, and ready to sacrifice herself not only for Winter and those she loves but for all of Primoria. It's an amazing transformation that truly shows the depth of Sara's characterization skill.
Like with many beloved series, I'm sad to see it end but
Frost Like Night
's ending is spot on. There were definite tears, moments of giddy joy, shocking plot points, and cursing of Sara's name (nothing personal, girl!). I'll miss these characters and their relationships with one another, but I know I'll be revisiting them again in the future and I cannot wait to see what Sara comes out with next!
Title:
Snow Like Ashes
Series: Snow Like Ashes #1
Release Date: October 14, 2014
Genre: Young Adult, Fantasy
A heartbroken girl. A fierce warrior. A hero in the making.

Sixteen years ago the Kingdom of Winter was conquered and its citizens enslaved, leaving them without magic or a monarch. Now, the Winterians' only hope for freedom is the eight survivors who managed to escape, and who have been waiting for the opportunity to steal back Winter's magic and rebuild the kingdom ever since.

Orphaned as an infant during Winter's defeat, Meira has lived her whole life as a refugee, raised by the Winterians' general, Sir. Training to be a warrior—and desperately in love with her best friend, and future king, Mather — she would do anything to help her kingdom rise to power again.

So when scouts discover the location of the ancient locket that can restore Winter's magic, Meira decides to go after it herself. Finally, she's scaling towers, fighting enemy soldiers, and serving her kingdom just as she's always dreamed she would. But the mission doesn't go as planned, and Meira soon finds herself thrust into a world of evil magic and dangerous politics – and ultimately comes to realize that her destiny is not, never has been, her own.
Title: Ice Like Fire
Series: Snow Like Ashes #2
Release Date: October 13, 2015
Genre: Young Adult, Fantasy
Find it:
Goodreads
|
Amazon
|
Barnes & Noble
|
iBooks
My Review:
Posted October 13, 2015
It's been three months since the Winterians were freed and Spring's king, Angra, disappeared—thanks largely to the help of Cordell.

Meira just wants her people to be safe. When Cordellan debt forces the Winterians to dig their mines for payment, they unearth something powerful and possibly dangerous: Primoria's lost chasm of magic. Theron sees this find as an opportunity—with this much magic, the world can finally stand against threats like Angra. But Meira fears the danger the chasm poses—the last time the world had access to so much magic, it spawned the Decay. So when the king of Cordell orders the two on a mission across the kingdoms of Primoria to discover the chasm's secrets, Meira plans to use the trip to garner support to keep the chasm shut and Winter safe—even if it means clashing with Theron. But can she do so without endangering the people she loves?

Mather just wants to be free. The horrors inflicted on the Winterians hang fresh and raw in Januari—leaving Winter vulnerable to Cordell's growing oppression. When Meira leaves to search for allies, he decides to take Winter's security into his own hands. Can he rebuild his broken kingdom and protect them from new threats?

As the web of power and deception weaves tighter, Theron fights for magic, Mather fights for freedom—and Meira starts to wonder if she should be fighting not just for Winter, but for the world.
Sara Raasch has known she was destined for bookish things since the age of five, when her friends had a lemonade stand and she tagged along to sell her hand-drawn picture books too. Not much has changed since then — her friends still cock concerned eyebrows when she attempts to draw things and her enthusiasm for the written word still drives her to extreme measures. Her debut YA fantasy, SNOW LIKE ASHES, came out October 14, 2014 from Balzer + Bray, and the sequel, ICE LIKE FIRE, comes out October 13, 2015. Neither features her hand-drawn pictures.


Tour Schedule