Over the past couple months I've noticed that every few books, despite my feelings toward them, get pushed farther and father back in terms of writing a review - and the farther back from the read date they get pushed back, my notes make less and less sense.
I don't know why it happens, but it does. Maybe I have too much to say and don't know how to pick out the important things or maybe I don't have enough to say. Or maybe the laziness in me just wins out. Who knows.
So without further ado . . . A few of these backlogged reviews :)
Series:
Genre:

Adult, Ghosts, Paranormal

Publication.Date:
January 1, 2014
Pages:
Audiobook
Published By:
Ecco
Website:
Lauren Oliver


Rooms on Goodreads
My review copy:

Borrowed from my local library



Where to get:


The New York Times bestselling author of Before I Fall and the Delirium trilogy makes her brilliant adult debut with this mesmerizing story in the tradition of The Lovely Bones, Her Fearful Symmetry, and The Ocean at the End of the Lane—a tale of family, ghosts, secrets, and mystery, in which the lives of the living and the dead intersect in shocking, surprising, and moving ways

Wealthy Richard Walker has just died, leaving behind his country house full of rooms packed with the detritus of a lifetime. His estranged family—bitter ex-wife Caroline, troubled teenage son Trenton, and unforgiving daughter Minna—have arrived for their inheritance.

But the Walkers are not alone. Prim Alice and the cynical Sandra, long dead former residents bound to the house, linger within its claustrophobic walls. Jostling for space, memory, and supremacy, they observe the family, trading barbs and reminiscences about their past lives. Though their voices cannot be heard, Alice and Sandra speak through the house itself—in the hiss of the radiator, a creak in the stairs, the dimming of a light bulb.

The living and dead are each haunted by painful truths that will soon surface with explosive force. When a new ghost appears, and Trenton begins to communicate with her, the spirit and human worlds collide—with cataclysmic results.

Elegantly constructed and brilliantly paced, Rooms is an enticing and imaginative ghost story and a searing family drama that is as haunting as it is resonant.

(Goodreads)
Rooms is an all encompassing story that pull readers into the lives of the Walter family and that of their two resident ghosts. It's a story of family, love, relationships, heartache, grief, secrets . . . life. I was engrossed in each family member's perspective, helped by the fact that they had their own personalities and didn't blend together in to one lump sum. (My favorite was definitely Sandra.)
Lauren drags the story out (in a good way), allowing the reader to get to know each character on their own and through the eyes of others. She keeps the secrets close to her chest and drops knowledge bombs out at just the right moment. This isn't a spooky horror story, but a realistic story that examines the lives (even of the dead), of these characters and brings to light that sometimes life isn't all sunshine and puppy dogs.
Where to get:

The conclusion to Between the Devil and The Deep Blue Sea, this gothic thriller romance with shades of Stephen King and Daphne du Maurier is a must-read for fans of Beautiful Creatures and Anna Dressed in Blood.
Freddie once told me that the Devil created all the fear in the world. But then, the Devil once told me that it's easier to forgive someone for scaring you than for making you cry. The problem with River West Redding was that he'd done both to me.
The crooked-smiling liar River West Redding, who drove into Violet's life one summer day and shook her world to pieces, is gone. Violet and Neely, River's other brother, are left to worry—until they catch a two a.m. radio program about strange events in a distant mountain town. They take off in search of River but are always a step behind, finding instead frenzied towns, witch hunts, and a wind-whipped island with the thrum of something strange and dangerous just under the surface. It isn't long before Violet begins to wonder if Neely, the one Redding brother she thought trustworthy, has been hiding a secret of his own . . .
(Goodreads)
I absolutely love
Between the Devil and Deep Blue Sea
and I
almost wish April had left it at that
. I'm not entirely sure what happened during
Between the Spark and the Burn
, but I felt
unfilled, let down, and confused upon finishing
. The magic, mystery, and intensity was missing from the second half of this duology.
April's writing style is still excellent and engaging, but plot wise I feel like she lost momentum somewhere around the middle. I kept waiting for something to happen, but it was a lot of . . . nothing. The twist was lackluster - and while I didn't see it coming - it felt as if the character's did. It happened and their reaction was "Oh, well that's interesting" and then they moved on with their lives.
Series:
Genre:

Young Adult, Fantasy, Dystopia, Science Fiction

Publication.Date:
October 13, 2015
Pages:
Audiobook
Published By:
G.P. Putnam's Sons Books for Young Readers
Website:
Marie Lu


The Rose Society on Goodreads
My review copy:

Borrowed from my local library



Where to get:

Once upon a time, a girl had a father, a prince, a society of friends. Then they betrayed her, and she destroyed them all.
Adelina Amouteru's heart has suffered at the hands of both family and friends, turning her down the bitter path of revenge. Now known and feared as the White Wolf, she and her sister flee Kenettra to find other Young Elites in the hopes of building her own army of allies. Her goal: to strike down the Inquisition Axis, the white-cloaked soldiers who nearly killed her.
But Adelina is no heroine. Her powers, fed only by fear and hate, have started to grow beyond her control. She does not trust her newfound Elite friends. Teren Santoro, leader of the Inquisition, wants her dead. And her former friends, Raffaele and the Dagger Society, want to stop her thirst for vengeance. Adelina struggles to cling to the good within her. But how can someone be good, when her very existence depends on darkness?
I think I'm giving up on this series. I felt iffy about
The Young Elites
, but stuck it out until the end in hopes that it would improve. Luckily it did, but
I didn't feel the same gumption
for
The Rose Society
. This series is wonderfully written with
compelling characters, an engaging and fast moving plot
, and enough tensity to make you want to pull your hair out.
I just couldn't really get into it.
I finished
The Rose Society
because of my love for
The Young Elites
, but
by the time I finished it my feelings were "meh."
Marie is taking these characters on an intriguing journey full of grey area and
I do think you should give this series a chance
if you haven't already.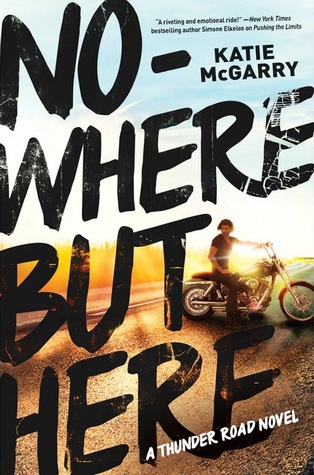 Series:
Genre:

Young Adult, Romance, Realistic Fiction

Publication.Date:
July 14, 2015
Pages:
Audiobook
Published By:
Harlequin Teen
Website:
Katie McGarry


Nowhere But Here on Goodreads
My review copy:

Borrowed from my local library



Where to get:

An unforgettable new series from acclaimed author Katie McGarry about taking risks, opening your heart and ending up in a place you never imagined possible.
Seventeen-year-old Emily likes her life the way it is: doting parents, good friends, good school in a safe neighborhood. Sure, she's curious about her biological father—the one who chose life in a motorcycle club, the Reign of Terror, over being a parent—but that doesn't mean she wants to be a part of his world. But when a reluctant visit turns to an extended summer vacation among relatives she never knew she had, one thing becomes clear: nothing is what it seems. Not the club, not her secret-keeping father and not Oz, a guy with suck-me-in blue eyes who can help her understand them both.
Oz wants one thing: to join the Reign of Terror. They're the good guys. They protect people. They're…family. And while Emily—the gorgeous and sheltered daughter of the club's most respected member—is in town, he's gonna prove it to her. So when her father asks him to keep her safe from a rival club with a score to settle, Oz knows it's his shot at his dream. What he doesn't count on is that Emily just might turn that dream upside down.
No one wants them to be together. But sometimes the right person is the one you least expect, and the road you fear the most is the one that leads you home.
Katie and I started out great - can we just talk about how much I love
Pushing the Limits
and
Dare You To
? - but after that we slowly started to drift apart. Things got cliche and stagnant, which is why I was so glad that
Nowhere But Here
is set in a different world. Well, not really a different world, but one apart from her Pushing the Limits characters.
Oz isn't a bad boy in need of redemption and Emily isn't a troubled girl who needs saving.
Not that any of the other girls needed saving, but you know what I mean. However, despite that I didn't feel myself particularly drawn into the story of the characters. I will fully admit though, that they may have been in part of the narrators, which is unfortunate. They were good, but seemed far too old to be voicing 18 and 17 year old individuals, but sounded more like they were in their late 20s.
Narrators aside, I do think
Katie has gotten a new gusto with this series
. It wasn't about redemption and troubled lives, but
about family and what it means to be one
, both via blood and water. The romance isn't instalove and it takes Oz and Emily a long time to admit their feelings for one another. I really enjoyed the minor characters and well and
I'm interested to see how Katie is going tackle this issue of cyber-bulling
in
Walk the Edge
.