I am thrilled to be a stop on the book tour for
A Mad Zombie Party
by Gena Showalter! Today,
Gena talks about Frosty's phobia
, but be sure to check out the additional stops below, or click on the tour banner above, for more!
Don't forget to enter the giveaway!
Title:
A Mad Zombie Party
Author:
Gena Showalter
Series:
White Rabbit Chronicles #4
Release Date:
September 29, 2015
Publisher:
Harlequin Teen
Genre:
Young Adult, Retelling, Paranormal, Romance
Find it:
Goodreads
|
Amazon
|
Barnes & Noble
|
IndieBound
|
Book Depository
The battle rages on.

Ali Bell and Cole Holland's crew of zombie slayers thought they'd won the war against Anima Industries, the evil company responsible for capturing and experimenting on zombies in an effort to discover the secret to immortality. In the last epic clash, the slayers lost many of their crew and closest friends. But Frosty, the ice man himself, has not recovered from one casualty in particular—the love of his life, Kat Parker.

On the path to self-annihilation, Frosty receives a message from beyond—Kat's spirit returns, insisting he partner with rogue slayer Camilla Marks. Frosty will do anything for Kat. Except that. Camilla is the one who betrayed them all, leading to Kat's death.

But when Anima rises from the grave to become a force the slayers may not have the strength to overcome, Frosty, Camilla and all the slayers will have to work together to survive. And one broken slayer will learn that sometimes, the line between hate and attraction is blurred…and the road to redemption isn't through revenge, but in letting go of the past and grabbing hold of the future.
About the White Rabbit Chronicles
White Rabbit Chronicles Website
Inspired by the classic
Alice in Wonderland
, The White Rabbit Chronicles series features romance, high-action zombie slaying, and shocking twists that will leave readers gasping for more.
Start at the beginning . . .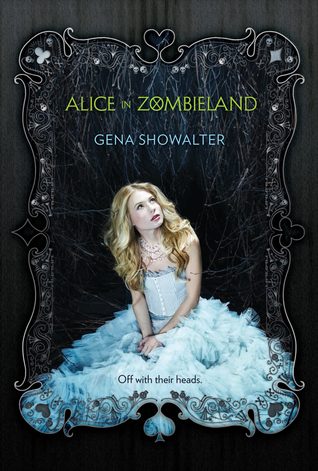 Title:
Alice in Zombieland
Author:
Gena Showalter
Series:
White Rabbit Chronicles #1
Release Date:
September 25, 2011
Publisher:
Harlequin Teen
Genre:
Young Adult, Retelling, Paranormal, Romance
She won't rest until she's sent every walking corpse back to its grave. Forever.

If anyone had told Alice Bell that her entire life would change course between one heartbeat and the next, she would have laughed. From blissful to tragic, innocent to ruined? Please. But that's all it took. One heartbeat. A blink, a breath, a second, and everything she knew and loved was gone.

Her father was right. The monsters are real.

To avenge her family, Ali must learn to fight the undead. To survive, she must learn to trust the baddest of the bad boys, Cole Holland. But Cole has secrets of his own, and if Ali isn't careful, those secrets might just prove to be more dangerous than the zombies.
About the Author
Gena Showalter is the

New York Times

and

USA Today

bestselling author of over thirty books in paranormal and contemporary romances, as well as young adult novels. Her series include White Rabbit Chronicles, Angels of the Dark, Otherworld Assassins, Lords of the Underworld, Alien Huntress and Intertwined.

Her novels have appeared in

Cosmopolitan Magazine

, and

Seventeen Magazine

, and have been translated all over the world. The critics have called her books "sizzling page-turners" and "utterly spellbinding stories," while Showalter herself has been called "a star on the rise."
Giveaway
The team at HarlequinTEEN is generously offering up a complete set of the White Rabbit Chronicles to one lucky winner! Three additional winners will each receive copies of A MAD ZOMBIE PARTY.
Please enter via the Rafflecopter form. Giveaway is open to US/Canada.
Tour Schedule