Hi guys! Welcome to the 1st discussion for our July Read Along: Dorothy Must Die by Danielle Paige! Huge thank you to everyone who joined us and read chapters 1-24 a few weeks ago and to those who are here to discuss chapters 24-44!


About the Book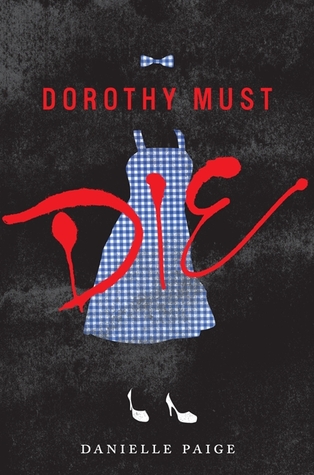 Dorothy Must Die by Danielle Paige
Series:
Dorothy Must Die #1
Published:
April 1, 2014 by HarperCollins
Genre:
Young Adult, Retelling, Fantasy
Find it:
Goodreads
|
Amazon
|
Barnes & Noble
|
IndieBound
I didn't ask for any of this. I didn't ask to be some kind of hero.

But when your whole life gets swept up by a tornado - taking you with it - you have no choice but to go along, you know?

Sure, I've read the books. I've seen the movies. I know the song about the rainbow and the happy little bluebirds. But I never expected Oz to look like this. To be a place where Good Witches can't be trusted, Wicked Witches may just be the good guys, and winged monkeys can be executed for acts of rebellion. There's still a yellow brick road - but even that's crumbling.

What happened? Dorothy.

They say she found a way to come back to Oz. They say she seized power and the power went to her head. And now no one is safe.

My name is Amy Gumm - and I'm the other girl from Kansas.

I've been recruited by the Revolutionary Order of the Wicked.

I've been trained to fight.

And I have a mission.
Discussion Questions
1) Are you a fan of
The Wizard of Oz
? Who is your favorite character and how are you taking Danielle's interpretation of them?
2) Were you shocked when it came to Pete / Ozma? Or did you see that coming?
3) What was the most shocking thing from
Dorothy Must Die
?
4) I love that Amy not only has to face Dorothy, but also her "friends." How do you think that's going to be handled in the next two books?
5) Are you going to continue with this series?
Please leave your answers in the comment section below and don't forget to respond to other comments so we can have an amazing discussion! We'll be checking in and responding as well :)
Our Favorite Quotes
I held Star close before I departed.

"If I don't come back," I told her, "find a way to give everyone the plague."
"Even the most unbreakable of spells are meant to be broken. You just need to know a thing or two"
I kept my antennae up for intel, but the only subject of conversation was Dorothy. Which should have been a good thing, considering that she was the one I was really here to learn about. Unfortunately, no one was sharing any useful information. It was all about how beautiful Dorothy was, or how kind she was, or how lucky we were to be working for the greatest person in all of Oz.

It was weird. They were like a creepy, overeager maid sorority
2016 TBR Pile Information
Check back tomorrow for a chance to sign up for our 2016 challenge! We've got a few changes from this year, but it should still be a lot of fun and help you tackle your ever-growing TBR pile!