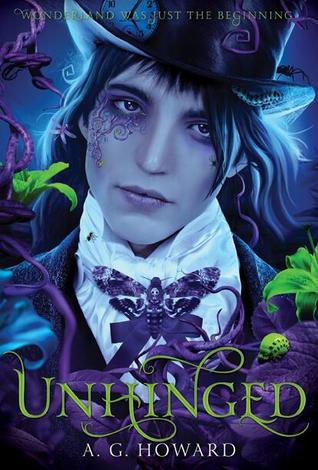 Series:
Genre:

Young Adult, Retelling, Romance, Paranormal, Fantasy

Publication.Date:
January 4, 2014
Pages:
387 (hardcover)
Published By:
Amulet Books
Website:
A.G. Howard


Unhinged on Goodreads
My review copy:

Borrowed from the local library



Where to get:


Alyssa Gardner has been down the rabbit hole and faced the bandersnatch. She saved the life of Jeb, the guy she loves, and escaped the machinations of the disturbingly seductive Morpheus and the vindictive Queen Red. Now all she has to do is graduate high school and make it through prom so she can attend the prestigious art school in London she's always dreamed of.

That would be easier without her mother, freshly released from an asylum, acting overly protective and suspicious. And it would be much simpler if the mysterious Morpheus didn't show up for school one day to tempt her with another dangerous quest in the dark, challenging Wonderland—where she (partly) belongs.

As prom and graduation creep closer, Alyssa juggles Morpheus's unsettling presence in her real world with trying to tell Jeb the truth about a past he's forgotten. Glimpses of Wonderland start to bleed through her art and into her world in very disturbing ways, and Morpheus warns that Queen Red won't be far behind.

If Alyssa stays in the human realm, she could endanger Jeb, her parents, and everyone she loves. But if she steps through the rabbit hole again, she'll face a deadly battle that could cost more than just her head.

(Goodreads)


"I don't belong there."




"You do. Because of who you are. What you are. One half brimming with dark curiosities and a fierce appetite for all things amd. But the other half whimsy and light - filled with courage and loaylty." He bites his lower lips, a gesture so minute I might've imagined it. "Nothing can break the chains you have on my heart. For you are Wonderland."
I hiss in frustration. I want to be furious that he made a liar out of me about my feelings, and even angrier that he goaded my wings to appear, since I'm stuck trying to hide them until they fade back into my skin. But I have to admit, embracing the reality of my power is heady. I'm finding it difficult to hold a grudge when he was only trying to show me how strong I really am.


When it's in fact what he always does.
Series:
Genre:

Young Adult, Retelling, Romance, Paranormal, Fantasy

Publication.Date:
January 6, 2015
Pages:
404 (hardcover)
Published By:
Amulet Books
Website:
A.G. Howard


Ensnared on Goodreads
My review copy:

Borrowed from the local library



Where to get:

After surviving a disastrous battle at prom, Alyssa has embraced her madness and gained perspective. She's determined to rescue her two worlds and the people and netherlings she loves. Even if it means challenging Queen Red to a final battle of wills and wiles . . . and even if the only way to Wonderland, now that the rabbit hole is closed, is through the looking-glass world—-a parallel dimension filled with mutated and sadistic netherling outcasts.
In the final installment of the Splintered trilogy, Alyssa and her dad journey into the heart of magic and mayhem in search of her mom and to set right all that's gone wrong. Together with Jeb and Morpheus, they must salvage Wonderland from the decay and destruction that has ensnared it. But even if everyone succeeds and comes out alive, can they all truly have their happily ever after?
(Goodreads)
The first pixie was right. I'm the epitome of Alice.


A nightmare Alice.

An Alice gone mad, who thirsts for blood.

When I find Queen Red, she'll beg me to stop at her heart.
"Them's the rules," a duckbilled bird scoffs, shaking his parasol in Morpheus's face. "Made by the queen herself."


"Them's the rules?" Morpheus chuckles, deep and soft. "You need to work on your scare tactics, Ducky. Incorrect grammar wielded by a good bird who carries a frilly sunshade. Doesn't have quite the effect you're going for."
My mind blurs to a ripple of pleasure when his soft, full lips at last make contact with mine. He starts to deepen the kiss, but pauses, intent on the glass behind him. "You gotta be kidding me."

I glance over my shoulder. Outside, Morpheus hangs on the glass in moth form, level with my head, glaring at us with his bulbous gaze. Even without a face, his smugness is apparent. His favorite pastime is interrupting Jeb's romantic moments. I try not to laugh, but can't help myself.

"Cocky son of a bug."
I made this mistake of reading
Ensnared
immediately after I finished
Unhinged
. There was no pause, no break.
I put down Unhinged and picked up Ensnared
, which was sitting right next to me,
without hesitation
. Well, I guess this isn't technically a "mistake" unless you're in the review business. Then it makes for rather tricky review writing because everything kind of blends together.
However, that is how good these two books (and this series) are.
I was so engrossed
and wrapped up in the story of Alyssa, Morpheus, Jeb, and Wonderland that
I could not wait to find out how in ended
! This is one of the nice thing about binging on series - the nonstop reading! Not having to wait a year, or more, to find out what happens next.
I'm not going to go too in depth with the plot details since this is a review for both books
in a series, but
my inability to wait
between these two books speaks volumes. A.G.'s writing is amazingly detailed.
I picture myself in our world, Wonderland, and AnyElsewhere.
She
entrances her readers
with her words, imagery, and characters.
In
Splintered
, Alyssa went through a rather large character development, but it's
nothing compared to what she goes through in Unhinged and Ensnared
. And while some novels focus their development on the main character a lone, upon finishing
Ensnared
, there is an
obvious development within Morpheus and Jeb as well
. These three have been through so much that I wouldn't imagine them coming out of it unchanged. And if they hadn't, I would call foul and it would definitely take away from the beauty of the series.
The love triangle aspect of the series is
still present and perhaps a bit more prominent
in these two novels. I know many people are anti-love triangle, and on occasion I am too, but
the tension between Alyssa and Morpheus makes them one of my favorite YA couples
. I could not get enough of their interaction and
found myself rereading some of the scenes between them
because I couldn't get it enough.
Jeb on the other hand had to grow on me.
I was very anti-Jeb after I finished
Splintered
and after
Unhinged
, but around the middle of
Ensnared
, I found myself appreciating him and his feeling for Alyssa.
The ending to this series is perfect.
I read the epilogue twice upon finishing Ensnared
and chances are I'm going to be reading it again once I finish this review. Even a few days after finishing
Ensnared
my mind would randomly drift to it's
perfection, beauty, and magic
.