Hi guys! Welcome to the 2nd discussion for our July Read Along: The Raven Boys by Maggie Stiefvater! Huge thank you to everyone who joined us for chapters 1-23 a couple weeks ago! So excited to discuss (or flail over) the end together!


About the Book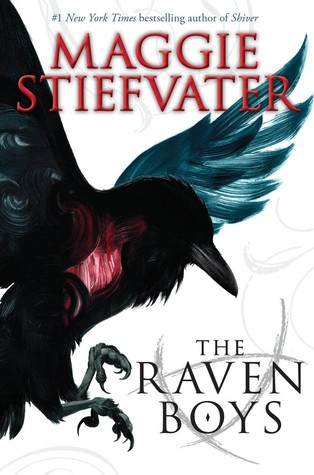 The Raven Boys by Maggie Stiefvater
Series: The Raven Cycle #1
Published: September 18, 2012 by Scholastic Press
Genre: Young Adult, Paranormal, Romance
Find it:
Goodreads
|
Amazon
|
Barnes & Noble
|
IndieBound
"There are only two reasons a non-seer would see a spirit on St. Mark's Eve," Neeve said. "Either you're his true love . . . or you killed him."

It is freezing in the churchyard, even before the dead arrive.

Every year, Blue Sargent stands next to her clairvoyant mother as the soon-to-be dead walk past. Blue herself never sees them—not until this year, when a boy emerges from the dark and speaks directly to her.

His name is Gansey, and Blue soon discovers that he is a rich student at Aglionby, the local private school. Blue has a policy of staying away from Aglionby boys. Known as Raven Boys, they can only mean trouble.

But Blue is drawn to Gansey, in a way she can't entirely explain. He has it all—family money, good looks, devoted friends—but he's looking for much more than that. He is on a quest that has encompassed three other Raven Boys: Adam, the scholarship student who resents all the privilege around him; Ronan, the fierce soul who ranges from anger to despair; and Noah, the taciturn watcher of the four, who notices many things but says very little.

For as long as she can remember, Blue has been warned that she will cause her true love to die. She never thought this would be a problem. But now, as her life becomes caught up in the strange and sinister world of the Raven Boys, she's not so sure anymore.

From Maggie Stiefvater, the bestselling and acclaimed author of the Shiver trilogy and The Scorpio Races, comes a spellbinding new series where the inevitability of death and the nature of love lead us to a place we've never been before.
Discussion Questions
1) How surprising was the truth about Noah? Did you see it coming--did it completely floor you? Did you have any other suspicions about him? And after the reveal, did you notice what his first line in the book was?!

2) Noah and Blue have something of a friendship. What do you think of it? Did you like it? Do you think it'll change later, and if so how?

3) What's your current opinion on the romantic aspects? Do you have a ship? Are you hoping for more of a certain pair?

4) Whelk was always shady, but did you suspect just how deep it went? Were you surprised at that reveal? And do you feel any sympathy for what happened to him, or think another way of handling it would have been better?

5) Adam's situation at home was terrible, but what did you think of how that turned out? Particularly Ronan's part in it?

6) Adam's sacrifice. What do you think of what he did? How do you think it'll affect him later?

7) Were you surprised when Blue's mom let her go along with the boys--and then joined in helping them herself? Had you guessed that her mom knew what was going on?

8) Did you have a favorite character? Who was it and why? Also, did you have a favorite PART of the book as a whole? Which part? Why?

9) The last line. RONAN. Did his announcement at the end make things click for you--specifically about the title of book 2? (Did you gasp and then laugh? Jessica did.)

10) There's loads of hype surrounding this book and series. Did The Raven Boys live up to that? Did you enjoy the book as a whole? And do you plan to continue on to the next book, and maybe, possibly, the rest of the series? If so, do you have any predictions about what may happen next? If not, what about this novel did not work for you?
Please leave your answers in the comment section below
and don't forget to respond to other comments so we can have an amazing discussion! We'll be checking in and responding as well :)
However, please only reference things in The Raven Boys.
You may make guesses or speculations as to what happens in the next book(s) (or, if you've already read them, what you thought would happen when you finished The Raven Boys), but
do not spoil it for those who may have not yet moved on
.
(Seriously, Jessica is only JUST starting
The Dream Thieves
and is really pumped about it. Don't dull the fun, pretty please.) :)
Our Favorite Quotes
He smiled tolerantly at her. Rubbing his smooth chin with its recently assassinated chin hairs, he studied her. She barely came up to Ronan's shoulder, but she was every bit as big as he, every bit as present. Gansey had a sense of incredible rightness, then, with everyone assembled by the Pig. Like Blue, not the ley line, was the missing piece that he'd been needing all these years, like the search for Glendower wasn't truly underway until she was a part of it.
He strode over to the ruined church. This, Blue had discovered, was how Gansey got places --- striding. Walking was for ordinary people.
"Out of the blue?" Calla asked.
"I'd prefer if you didn't use that expression," Blue said.
"His name wasn't really Butternut, was it?" Gansey asked Adam in a low voice.
"I didn't say it was possible," Gansey replied, not looking up from his splint. "I just said that was what I would like."
She tried to imagine being Gansey, seeing the warehouse for the first time, deciding it would be a great place to live, but she couldn't picture it. No more than she could imagine looking at the Pig and deciding it was a great car to drive, or Ronan and thinking he was a good friend to have. But somehow, it worked, because she loved the apartment, and Ronan was starting to grow on her, and the car...
Well, the car she could still live without.
Ronan, taking in Blue's posture and Gansey below, observed, "If you spit, Blue, it would land right in his eye."
If I'd been anybody else in the world, she thought, this would've been my first kiss.
"I don't mean to interrupt. But in either three or seven minutes," Persephone said, "Blue's raven boys are going to pull down the street and sit in front of the house while they try to find a way to convince her to sneak out with them."
"Well," said Ronan, "I hope he likes it. I've pulled a muscle."
Gansey scoffed, "Doing what? You were standing watch."