Hi guys! Welcome to the 1st discussion for our July Read Along: The Raven Boys by Maggie Stiefvater! Huge thank you to everyone who joined us and read chapters 1-23 on time to meet up with us and discuss them (or rather swoon over them) together!


About the Book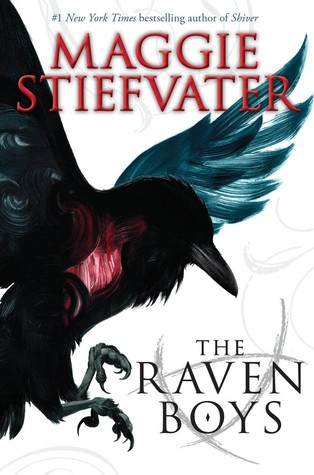 The Raven Boys by Maggie Stiefvater
Series: The Raven Cycle #1
Published: September 18, 2012 by Scholastic Press
Genre: Young Adult, Paranormal, Romance
Find it:
Goodreads
|
Amazon
|
Barnes & Noble
|
IndieBound
"There are only two reasons a non-seer would see a spirit on St. Mark's Eve," Neeve said. "Either you're his true love . . . or you killed him."

It is freezing in the churchyard, even before the dead arrive.

Every year, Blue Sargent stands next to her clairvoyant mother as the soon-to-be dead walk past. Blue herself never sees them—not until this year, when a boy emerges from the dark and speaks directly to her.

His name is Gansey, and Blue soon discovers that he is a rich student at Aglionby, the local private school. Blue has a policy of staying away from Aglionby boys. Known as Raven Boys, they can only mean trouble.

But Blue is drawn to Gansey, in a way she can't entirely explain. He has it all—family money, good looks, devoted friends—but he's looking for much more than that. He is on a quest that has encompassed three other Raven Boys: Adam, the scholarship student who resents all the privilege around him; Ronan, the fierce soul who ranges from anger to despair; and Noah, the taciturn watcher of the four, who notices many things but says very little.

For as long as she can remember, Blue has been warned that she will cause her true love to die. She never thought this would be a problem. But now, as her life becomes caught up in the strange and sinister world of the Raven Boys, she's not so sure anymore.

From Maggie Stiefvater, the bestselling and acclaimed author of the Shiver trilogy and The Scorpio Races, comes a spellbinding new series where the inevitability of death and the nature of love lead us to a place we've never been before.
Discussion Questions
1) For as long as she can remember, Blue has known that if she were to "kiss her true love, he would die." Do you think it was fair of Blue's family to tell her this prophecy? Would you want to know a prophecy about yourself that would drastically change your life?

2) How would you feel if you were Blue and lived in a house full of physic women and your gift was just to "make things louder" for them? How do you think she really feels about this?

3) Blue spends every St. Mark's Eve on the ley line, helping her mother record the names of the people that will die the following year. What would you do if you were Blue and knew which people in your town would die in the next twelve months?

4) Legend says that the person who wakes Glendower is granted a wish. What would you wish for?

5) The story is being told is 3rd person POV, between a few characters. How is this--and Maggie's writing style in general--working for you? Any specific character you want to spend more time in the head of? Anything you particularly love/hate about the way writing?

6) What do you think of Gansey's search for Glendower so far? How do you foresee this going in the second half of the book?

7) Do you have any ideas about what's going on between Ronan and his brother? Or with Ronan, in general? There's obviously a secret--any guesses? And do you think things will ever get better between the brothers?

8) How do you think Barrington Whelk is going to play into the story? He's up to something. Any ideas on what, specifically?

9) What did you think of Blue's first interaction with Gansey, at Nino's? And then when Blue met Adam? Ronan?

10) Going in, the romantic aspects looked pretty straightforward--Gansey would be Blue's true love. But things are already seeming complicated. Are you hoping for anything in regards to romance? Do you have a ship yet, or are you unable to choose yet?
Please leave your answers in the comment section below
and don't forget to respond to other comments so we can have an amazing discussion! We'll be checking in and responding as well :)
However, please only reference things that happen in chapters 1-23.
You may make guesses or speculations as to what happens in the second half (or, if you've already read ahead, what you thought would happen when you finished these chapters), but
do not spoil it for those who may have not yet finished the book
.
Our Favorite Quotes
"There's only two reasons a non-seer would see a spirit on St. Mark's Eve, Blue. Either you're his true love," Neeve said, "or you killed him."
Outside, a midnight bird cried, high and piercing. The little replica of Henrietta was eerie in the half-light, the die-cast cars parked on the streets appearing as though they had just paused. Gansey always thought that, after dark, it felt like anything could happen. At night, Henrietta felt like magic, and at night, magic felt like it might be a terrible thing.
Oh no. Not him. All this time she'd been wondering how Gansey might die and it turned out she was going to strangle him.
Blue didn't reply. She wasn't interested in telling other people's futures. She was interested in going out and finding her own.
"Fate," Blue replied,glowering at her mother, "is a very weighty word to throw around before breakfast."
Maura flipped her hands. Blue knew the gesture well. Her mother had used it to end many an argument after she'd delivered a winning line. Only this time the winning line had been delivered by a bowl of cran-grape juice, and Blue had no idea what it meant.
Mornings were a sport. One that Blue liked to think she was getting better at.
Gansey had once told Adam that he was afraid most people didn't know how to handle Ronan. What he meant by this was that he was worried that one day someone would fall on Ronan and cut themselves.
"Because I'm not pretty. Not in the way that Aglionby boys seem to like."

"I go to Aglionby," Adam said.

Adam did not seem to go to Aglionby like other boys went to Aglionby.

"I think you're pretty," he said.
Never too late to join!
The second discussion post for the second half will be posted on
Jul
y 30
, followed by the vote for September's read on on
July 31
! Also, don't forget that everyone who takes part in our July TBR Pile Read Along is going to get
5 extra entries into our giveaway for the TBR Pile Reading Challenge
!