Hi guys! Thanks for joining our
2015 TBR Pile Reading Challenge
! As you know, every other month we'll be hosting TBR Pile Read-a-Longs to help you (and us!) tackle our TBR Piles :)
Two weeks ago we posted a voting poll and asked you to
vote on the book you'd like to read
together with us in March! And the winner is . . . *drum roll*
I'll Give You The Sun by Jandy Nelson!
About the Book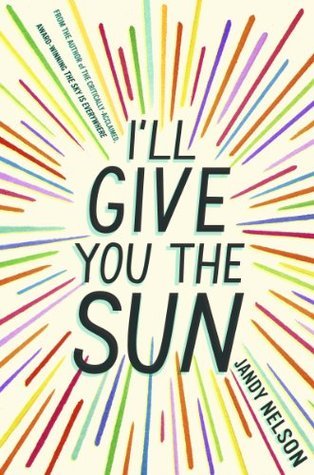 I'll Give You The Sun by Jandy Nelson
Series:
Standalone
Published:
September 16, 2014 by Dial Books
Genre:
Young Adult, Realistic Fiction, Contemporary
Find it:
Goodreads
|
Amazon
|
Barnes & Noble
|
IndieBound
A brilliant, luminous story of first love, family, loss, and betrayal for fans of John Green, David Levithan, and Rainbow Rowell

Jude and her twin brother, Noah, are incredibly close. At thirteen, isolated Noah draws constantly and is falling in love with the charismatic boy next door, while daredevil Jude cliff-dives and wears red-red lipstick and does the talking for both of them. But three years later, Jude and Noah are barely speaking. Something has happened to wreck the twins in different and dramatic ways . . . until Jude meets a cocky, broken, beautiful boy, as well as someone else—an even more unpredictable new force in her life. The early years are Noah's story to tell. The later years are Jude's. What the twins don't realize is that they each have only half the story, and if they could just find their way back to one another, they'd have a chance to remake their world.

This radiant novel from the acclaimed, award-winning author of The Sky Is Everywhere will leave you breathless and teary and laughing—often all at once.
Read-A-Long Schedule:
There will be two discussion posts. For each discussion we'll be talking about favorite quotes, characters, and scenes!

Okay, this one is a bit tricker. There aren't actually chapters and the larger sections - Noah (the early years) and Jude (the late years) - contain paragraph breaks. This being the case it's a bit tricker to figure out where the half way point is for everybody, especially if we all have different versions.

I personally have the hardcover, but I'll try to make it clear for those of you with ARCs, eBooks, or what not.
3/15: pages 1-180; "The History of Luck" Jude is 16 and you should stop at the paragraph that begins It's the next afternoon and I'm hurrying down the grimy fungal hallway in Guillermo Garcia's studio because no one came to the door when I knocked. This is damn near close to 50%, we're talking like 49% damn near close if you're using an eBook.
3/30: pages 180-371.
Let's have lots of fun tacking our TBR Piles together and then discussing the books we've read over a cup of delicious tea/coffee :)


Never Too Late To Join!
And remember, it's never to late to sign up for 2015 TBR Pile Reading Challenge and/or join our monthly Read Along, so spread the word and invite your friends to join the fun! If you missed the early sign-ups you'll have another chance to sign up, and link your reviews, on Evie's January - February Wrap Up that will be posted February 25.