Hi guys! Thanks for joining our
2015 TBR Pile Reading Challenge
! As you know, every other month we'll be hosting TBR Pile Read-a-Longs to help you (and us!) tackle our TBR Piles :)
Last week we posted a voting poll and asked you to
vote on the book you'd like to read
together with us in January! And the winner is . . . *drumroll*
Throne of Glass by Sarah J. Maas!
As a bit a side note, there was actually a tie. It ended up being between this book and
Steelheart
by Brandon Anderson. I planned on flipping a coin, but decided to go this route instead:
I know it's pretty crappy video quality (Blogger's fault) and it's short horizontally (my fault), but this seemed like the fairest way to break the tie. :) And if you're wondering, yes. I gave him the treat that was in front of
Steelheart
too.
About the Book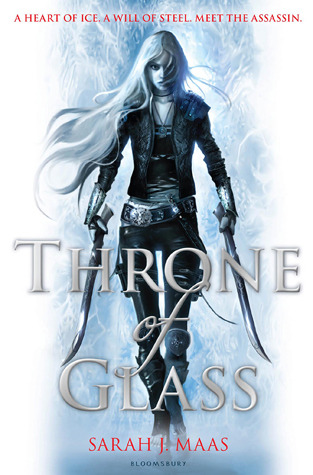 Throne of Glass by Sarah J. Maas
Series:
Throne of Glass #1
Published:
August 2, 2012 by Flux
Genre:
Young Adult, Fantasy, Romance
Find it:
Goodreads
|
Amazon
|
Barnes & Noble
|
IndieBound
Meet Celaena Sardothien.
Beautiful. Deadly.
Destined for greatness.

In the dark, filthy salt mines of Endovier, an eighteen-year-old girl is serving a life sentence. She is a trained assassin, the best of her kind, but she made a fatal mistake: she got caught.

Young Captain Westfall offers her a deal: her freedom in return for one huge sacrifice. Celaena must represent the prince in a to-the-death tournament—fighting the most gifted thieves and assassins in the land. Live or die, Celaena will be free. Win or lose, she is about to discover her true destiny. But will her assassin's heart be melted?
A bit of assistance with names from Sarah's website if you need it. :)
Read-A-Long Schedule:
There will be two discussion posts. For each discussion we'll be talking about favorite quotes, characters, and scenes!
1/15: Chapters 1-28
1/30: Chapters 28-55
Let's have lots of fun tacking our TBR Piles together and then discussing the books we've read over a cup of delicious tea/coffee :)


Never Too Late To Join!
And remember, it's never to late to sign up for
2015 TBR Pile Reading Challenge
and/or join our monthly Read Alongs, so spread the word and invite your friends to join the fun!