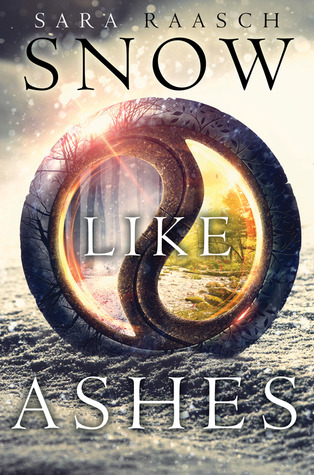 Series:
Genre:

Young Adult, Fantasy, Romance, Magic

Publication.Date:
October 14, 2014
Pages:
Audiobook
Published By:
Balzar + Bay
Website:
Sara Raasch


Snow Like Ashes on Goodreads
My review copy:

Borrowed from Library



Where to get:

A heartbroken girl. A fierce warrior. A hero in the making.

Sixteen years ago the Kingdom of Winter was conquered and its citizens enslaved, leaving them without magic or a monarch. Now, the Winterians' only hope for freedom is the eight survivors who managed to escape, and who have been waiting for the opportunity to steal back Winter's magic and rebuild the kingdom ever since.

Orphaned as an infant during Winter's defeat, Meira has lived her whole life as a refugee, raised by the Winterians' general, Sir. Training to be a warrior—and desperately in love with her best friend, and future king, Mather — she would do anything to help her kingdom rise to power again.

So when scouts discover the location of the ancient locket that can restore Winter's magic, Meira decides to go after it herself. Finally, she's scaling towers, fighting enemy soldiers, and serving her kingdom just as she's always dreamed she would. But the mission doesn't go as planned, and Meira soon finds herself thrust into a world of evil magic and dangerous politics – and ultimately comes to realize that her destiny is not, never has been, her own.

(Goodreads)


Recently I've come to think of audiobooks as a beautiful thing. I've started listening to them when I do yard work (not so much now in December), while I'm cleaning the house, or when I'm driving to my parents an hour away - at least when I'm driving alone, weirdly enough Joe doesn't enjoy listening to my books. Weird, right?
I've had
Snow Like Ashes
waiting to be read for awhile and after reading some rave reviews I knew it was time to finally
read
listen to it. Reviewing an audio book is a bit tricky, a different sort of experience. I don't have the text to refer to and as I wasn't reading a text, perhaps some details may have slipped through the cracks, but that's not to say I didn't enjoy
Snow Like Ashes
.
Sara has
created a rather interesting a new world
with this series. There are eight kingdoms (four seasons and four rhythms) that are ruled by
monarchies that possess magic
; some kingdoms it is the female line and in others it is the male. Winter, in a perpetual state of Winter (and the crazy people
love
the cold), is one of those kingdoms where magic runs through the female line, which is a bit tricky considering that were invaded by Spring and had their queen killed. Bad luck on her having a son, too. Even worse luck is that their conduit for magic was broken in half by Spring's King Angra.
Things are not looking good for our Winterians
and the odds are stacked against them.
Having escaped when they were babies Meira and Mather (heir to the Winter throne) have grown up as refugees alongside the 23 other people, now down to roughly 10, who escaped Winter when Spring invaded. Meira wants to fight and to help bring her kingdom back to its former glory, but at the same time is
kept behind by Sir who treats her like child
despite her attempts to just be good enough for him. I love the relationship between Meira and Sir. It's very
love-hate
and while she cannot stand the way he treats her, when shit hits the fan
she is the one he turns to
. The ones she trusts to keep her safe and make sense of the world.
She is really a truly
strong and realistic character
. She constantly doubts herself, despite her skill and knowledge, and actually has a normal range of feelings. She
dreams of a day when she can marry Mather
, despite knowing he will have to marry royalty once they reclaim Winter, and fights with these feelings. She doesn't want to love him because they're future together is doomed, but at the same time knows she cannot help it. Mather, who returns her feelings, struggles with the knowledge that even if they reclaim Winter from Spring since he is male he cannot harness the magic of his heritage and is powerful until he has a daughter and she becomes age.
At the same time,
Sara doesn't allow this somewhat doomed relationship to dominate her book
. It's a subplot. She allows it to be important and integral to the story, but it is not
the
story. She
puts her focus into Meira
, into the refugees effort to reclaim their home, and the
development of the plot as a whole
.
These characters have
a lot of obstacles to overcome
and there are
a lot to details to keep straight
and remember. Despite all this, Sara
keeps everything straight and doesn't overwhelm her readers
with too much detail all at once, but just
enough that we are informed and not drowning
in details and facts.
I've stated before that I'm not a huge high fantasy person, but if I encounter more books like
Snow Like Ashes
, I can definitely be turned when it comes to this genre. As it stands,
I'm counting down the days until Ice Like Fire is released
.